Evely overtakes Walling to capture yellow jersey
2009 Tour of the Valley in Downtown Youngstown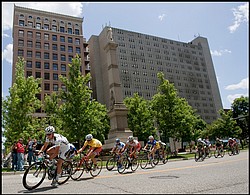 Gallery
7.12.2009 Tour of the Valley hosts riders and their bicycles racing through the streets of downtown Youngstown.
Tour of the Valley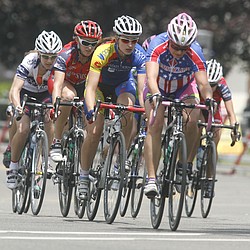 Video
Three day Bike race rolls into the valley
The two riders had swapped the leader's jersey over the previous two races.
Vindicator staff report
YOUNGSTOWN — Janet Evely of Kent overcame Emily Walling of Team Dayton to win the yellow jersey by a point in the Women's 1-3 race Sunday.
Evely, a recently crowned national masters champion, said that Walling took off near the end of the 1.1-mile course.
"I was able to stay on her wheel," Evely said, "then, with a couple corners left was when I was able to overtake her heading to the finish line."
Evely had the jersey after Friday, but lost it to Walling after Saturday's road race.
Walling and Team Dayton teammates Erika Howard and Terra Kier worked well on Sunday, but Evely did likewise with Team SummaCare teammate Sally Price.
Price finished third Sunday in Women 1-3 and she was third overall, giving SummaCare a satisfactory weekend.
Walling said she needed to win Sunday to keep the yellow jersey for Women 1-3.
"I didn't, so I got second [Sunday] and second overall. It was hard to pull off, so I lost by a point to Jane."
Twelve women started the race, which was two races in one — Women 1-3 and Women 4 — and they were scored separately.
Howard was the first finisher among Women 4, followed by Kier, but Kier walked away with the yellow jersey, which she held prior to Sunday.
Thanks to his high standing entering Sunday, Jacob McCrea of Pittsburgh maintained the yellow jersey in Men Cat 4, an event won by Andrew Seitz, an unattached rider, also of Pittsburgh.
In fact, Pittsburgh took 1-2-3 in Cat 4 on Sunday with Greg Flood (unattached) second and Samson McHugh (Photographics Cycling) third.
Being head and shoulders above his competition, McCrea easily won his first stage race ever.
However, he only led one or two laps.
"I feel terrible," McCrea said of a sickness or food poisoning he had Saturday night.
"I ended up passing out while walking and hit my head on a doorjamb. So I was not firing on all cylinders. It was tough just to get out of bed and get myself to Youngstown."
McCrea finished fourth in the time trial, won Friday's criterium in Canfield and Saturday's road race in Columbiana.
"I was nearly dead last Sunday because I got caught up behind a crash a couple corners from finish," he said of a mishap involving Will Gleason of Central Ohio Bicycle Club.
The 22-year-old Seitz and a friend planned to make a hard pull on the backstretch straightaway to take the lead. He was able to hold his lead through the corners.
Seitz, a mechanical engineering student at Pitt, said he earned enough upgrade points to move up to Cat 3. His road race runner-up finish on Saturday and Sunday's win gave him second overall.