DOWNTOWN SHOWDOWN: Rosskopf yellow jersey winner
2009 Tour of the Valley in Downtown Youngstown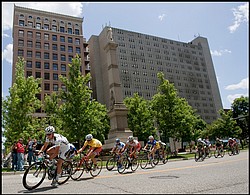 Gallery
7.12.2009 Tour of the Valley hosts riders and their bicycles racing through the streets of downtown Youngstown.
Tour of the Valley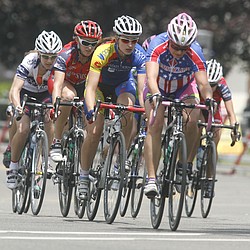 Video
Three day Bike race rolls into the valley
Jittery Joe's of Georgia had a strong presence in the bicycle race that concluded downtown.
Vindicator staff report
YOUNGSTOWN — Sunday's Tour of the Valley had all the drama of NASCAR, minus two wheels.
Crashes around corners, pit stops for repairs and riders who doubled as walking billboards gave the inaugural Tour of the Valley a quality finish.
About 90 minutes after 43 riders started their Pro Men 1-2 event, 19-year-old Joey Rosskopf barreled to the finish as the overall winner.
Rosskopf, representing Jittery Joe's Coffee Shop of Athens, Ga., finished with 48 points, six more than Paul Martin of North Royalton (Panther Racing).
Rosskopf teammate Jafer Beizer was third (40 points), followed by Tom Burke (Lathrup Industries/Giant), Oscar Clark (Jittery Joe's) and David Wenger of Austin, Texas (Super Squadra).
With a first-place finish Sunday, Rosskopf took the yellow from Beizer, a teammate.
But it didn't matter.
"We're going back to our house," Rosskopf said of the team's summer base in Kutztown, Pa. "We're all in it together."
Wenger was actually second behind Rosskopf at the finish line, but a challenge by Martin dropped Wenger back a place.
Wenger, a South Range High graduate who lives in Texas, rode alone Sunday (no team).
Wenger said he worked hard to maintain a gap to stay near the front along the 1.1-mile route so he could deal with five other guys than 40 other.
"Not until about five laps to go did my pack ease up the pace because we had a big enough gap on the field. That's when it was very aggressive approaching the last turn, going as fast as possible.
"But I was also trying to close the door — meaning lean slightly toward the barriers — to maintain my lead."
Martin explained his protest.
"When coming into a sprint out of the corner, rules say you're supposed to hold a straight line so that the riders behind have a chance to come around and I was trying to come around to the left, but it seemed that the guy in front of me [Wenger] was moving his line, so it wasn't safe to go past.
"When you've got metal barriers on your side and we're sprinting at 33 mph, you've got to be careful not to run into anything. I tried to play it safe. I'm 36 years old and I have family here and a job to go back to tomorrow morning, so I'm trying to not hit those barriers at 30-plus mph."
Rosskopf gave his perspective of Wenger's move.
"He took us all the way to the left side of the road to the barriers."
Rosskopf's overall prize was also based on 20 points for Friday's criterium victory. Beizer got 25 points for Saturday's road race.
Wenger said the Tour was a high-caliber event.
"These are no-joke national champions racing right here. This is very important because it's a hometown race. I grew up here, so I have a lot of pride on the line."
He said it was the biggest stage in Youngstown, by far.
"I'd normally travel 5-10 hours to race these guys. This time they came here, I got to sleep in my old bed and my folks made pancakes in the morning and I had my family came out to watch so it was really great."
Wenger is currently the Texas Cup series leader, a year-long competition.