Motorcyclists honor fallen police officers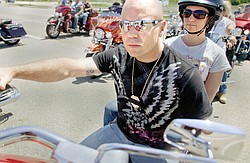 Photo
PAYING TRIBUTE: Ray Kirchner of Youngstown, an officer with the Mahoning County Sheriff's Department and Mill Creek MetroParks, wears black tape over his badge in a tribute to fallen officers while sitting on his motorcycle with his wife, Carrie. They were outside the Covelli Center in downtown Youngstown before the Fallen Officers Memorial Run on Sunday.
By VIRGINIA ROSS SHANK
VINDICATOR CORRESPONDENT
Folks such as Pat and Jane Glasser appreciate any opportunity to climb onto their motorcycles and head out on the highway.
But the ride gets better when they know it's for a good cause such as the seventh annual Our Fallen Officers Memorial Run.
The Boardman couple joined hundreds of other local residents Sunday, including Jane's brother, Skip Campbell of Columbiana, who participated in the event honoring Michael Hartzell — Youngstown's most recent fallen police officer.
Hartzell was shot and killed in April 2003. Officials said he was ambushed downtown in his cruiser.
"It's a good day to remember our officers and the people who put their lives on the line every day," said Pat Glasser. "And it's a great day to ride and live life and to appreciate it. There's nothing better than a nice ride on a beautiful day. When you can put that with doing something good, it's a great day. This is one of those days."
At least 1,000 motorcycles departed from the Covelli Centre parking lot downtown around noon for a 90-minute run through numerous parts of Mahoning County including Campbell, Struthers, Lowellville, New Middletown and Springfield and Beaver townships. They made their way back downtown to Federal Plaza for food, drinks and entertainment.
The ride, sponsored by the Blue Knights of Youngstown XXVII and Lodge 28, Fraternal Order of Police, typically draws a few thousand people including motorcycle operators and their passengers, said Marilyn Davis, an event organizer.
"Every year, it gets a little bigger," she said. "As more people become aware of it, more and more join in. It's a good time, but it's also a way to remember our fallen officers. That's what it's all about, to remember them and to do something in their honor."
She explained the motorcyclists are escorted by city police and officers representing the municipalities that the participants pass through along the run.
"We try to keep it nice, enjoyable and safe for everyone," she said. "We want to make a statement and let people know we haven't forgotten Officer Hartzell and other fallen officers. But we also want it to be a good experience for everyone involved."
She said money raised for the event is divided between the Blue Knights and the FOP to allow each organization to donate to charities its members choose to support. For example, thousands of dollars has been generated for the Michael Hartzell Scholarship Fund, she added.
City Patrolman Russ Davis said the local chapter of the Blue Knights recognizes any officers killed in the line of duty. The chapter was chartered April 24, 2003, and, along with FOP Lodge 28, took over the Fallen Officers Memorial Run in July 2004.
"We just want to show our appreciation and keep the work going," he said. "Several of us ride and try to participate when we can, when we're not working. It's a way to show respect and let people know we haven't forgotten."
City officials including Mayor Jay Williams were on hand to see the riders off and to pray for their safety during a brief ceremony before the run.
"We do events like this to keep the memories of our officers alive," said Phil Rogers, retired police officer and president of the local Blue Knights chapter. "That's important. That matters."
Douglas Orr of Boardman said events such as Sunday's memorial run provide bikers an opportunity to make a statement to the public about who they really are.
"You just want to show you care," he said. "I've been riding a long time, at least 25 years, and it used to be when people saw a bunch of bikers like this riding together, they thought of biker gangs and bad news and stuff. But there are a lot of good people on bikes, and they want to do good things. They do a lot of good things. Something like this is one of them. It's a good day for a run. It's a good day to do something good. It's a good day to recognize our police officers. They're the ones out there with the dangerous jobs, doing their best for us. This is something we can do for them."
For more information about future events, visit the Blue Knights Web site at www.bkoh27.com.