Coma victim's family prays for miracle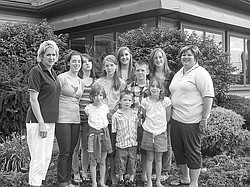 Photo
Special to The Vindicator
FAMILY PLAN: With plans completed for a benefit golf outing sponsored for the Tom Driscoll family by Boardman-Poland Junior Women's League, co-chairs of the event, Yvonne Ford, at left, and Linda Crish, at right, are joined by nine members of the family.
Driscoll Family Benefit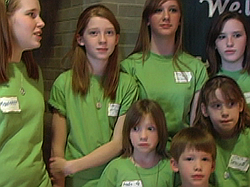 Video
Friends and family come together at St. Charles Church in Boardman for the Tom Driscoll Family Benefit Dinner. 52-year-old Tom remains in a coma following a January traffic accident. The Greenford family includes Tom's wife Mary Therese and 14 children. The family is praying for a miracle - that Tom wakes. An account has been set up for the Driscoll family of Greenford at area First Place Bank branches
By Denise Dick
GREENFORD — Small miracles keep Tom Driscoll Jr.'s family hopeful that he will emerge from a coma.
Until then, his wife and children work together, caring for him at home.
"I still want him back," said Mary Therese Driscoll, 47, his wife of 26 years. "We all want him back."
Tom, 52, a compliance director for Fidelity Investments in Jersey City, N.J., was on his way back to New Jersey from his Greenford home the night of Jan. 25 when he was in a four-vehicle crash on Interstate 80, Hubbard.
He sustained severe brain trauma.
After leaving Select Care in Boardman, Tom went to Forum Health Hillside Rehabilitation Hospital, Warren, where he improved.
While there, though, his heart stopped, and he had to be rushed to St. Joseph Health Center and then transferred to intensive care at St. Elizabeth Health Center. From there, he went to Health South in Erie, Pa., another rehab facility, then home and to St. E's Boardman when an infection hit.
Before the latest illness, Tom made what family members perceived as significant progress. He responded to questions, could identify tastes, followed brief conversations and even said his name.
The infection caused a setback. "It's almost like we have to start over again," Mary Therese said.
The family's insurance won't cover further rehab, so Tom just returned home this week.
"We're all happy that he's home," Mary Therese said.
And Tom seems happy to be there. He's begun to speak again — a word here or there in response to a question.
His hospital bed is in the couple's first-floor bedroom. Mary Therese administers her husband's medicine six times daily through a peripherally inserted central catheter. He has a specialized wheelchair fitted for him, and Mary Therese learned from workers at the rehabilitation facilities how to get Tom from the bed to the wheelchair and back.
Their insurance covers 40 home visits from a nurse per year so Tom's day-to-day care falls to Mary Therese.
"I'm not a nurse wanna-be, I'm a nurse have-to-be," she said.
Those of the couple's 14 children, ages 5 to 25, who are at home help out too. The family are devout members of St. Charles Church, and the children attended school there and at Cardinal Mooney High School.
They all pitch in with their dad's physical therapy.
The younger children focus on his hands and fingers. Those in the middle work his arms, and the oldest ones focus on their dad's legs, stretching and moving his limbs through their full range of motion.
Daughter Erin, 21, who lives in Pittsburgh, calls every day at midnight, waking her mother to turn Tom in the hospital bed. "He has to be turned every two hours," Mary Therese said. "I'm not going to let him get sores."
At 2 a.m., the first of her cell phone's three alarms sounds and she rises and turns him again. The second rings at 4 a.m., and the third, two hours later.
As the family gets more into a routine, she may enlist the help of some children to turn their dad. Her oldest daughters are moving home to help.
She keeps a voice mail from October from her husband. She listens to the simple, "Hi, it's just me. I love you" message just to hear Tom's voice. She sometimes plays it for him so that he can hear what he sounded like.
But she can't think for too long about the person Tom used to be or the way their family was before the accident. It hurts too much.
"You have to make new memories," Mary Therese said.
The family still receives a lot of help from friends, supporters and the community, from yard work by the Mooney track and cross country teams to people building ramps and Boardman Molded Plastics donating plastic runners to make it easier to wheel Tom's chair over the yard.
Dinners delivered to the family continued daily until Mary Therese asked people to stop. People need to get back to their own lives, she reasons.
When school resumes, however, she may need more help.
Mary Therese hopes Medicare or Medicaid will help with the medical bills, but so far they've been turned down. Since the accident, the family's income has steadily decreased, and beginning in August, they'll have only Social Security and disability benefits. It doesn't pay for Mary Therese to get a job because she would have to pay someone to be with her husband.
To help defray medical expenses, proceeds from the Boardman-Poland Junior Women's League sixth annual golf outing Saturday will go to the Driscoll family. The benefit will be at Bedford Trails Golf Course, Lowellville, and there is space available for teams.
Call Yvonne Ford at (330) 718-2013 or Linda Crish at (330) 727-9321 for more information.
Ford said many of the club's members know the Driscoll family and nominated them to receive proceeds from this year's event. The membership then chose the family from those nominated.
Mary Therese says she's not so worried about how the family will make it today, but she worries about next year and the year after.
She's not giving up: "I accept the reality of the situation, but I haven't lost hope," she said.
God works in his own time, Mary Therese said, and she's still praying for the miracle.
denise_dick@vindy.com
---
Tom Driscoll Jr. | Benefit golf outing
Proceeds from the Boardman-Poland Junior Women's League sixth annual golf outing will help to defray medical expenses for the family of Tom Driscoll Jr., who is in a coma after a Jan. 25 car accident. Details:
When: 8 a.m. Saturday shotgun start.
Where: Beford Trails Golf Course, Lowellville.
How much: $75 per player on a four-person team. Fee includes 18 holes of golf, a cart, breakfast, lunch and a steak dinner. Registration is limited to first 38 teams.
Other: Several hole prizes, pitching games, a 50-50 raffle and a Chinese auction.
More information: Call Yvonne Ford at (330) 718-2013 or Linda Crish at (330) 727-9321.
Source: Vindicator files