Energy bill in U.S. House includes $6.1 million for Mahoning Valley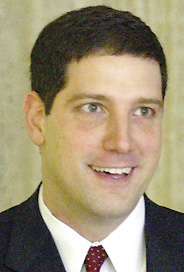 Photo
U.S. Rep. Tim Ryan of Niles
The proposed Warren Business Incubator would receive $2.1 million.
Staff Report
YOUNGSTOWN — More than $6 million for Mahoning Valley projects, including those for alternative energy, is included in two spending bills approved by the U.S. House Appropriations Committee.
U.S. Rep. Tim Ryan of Niles, D-17th, said Wednesday that he secured $6.15 million from the Energy and Water and Financial Services spending bills to help stimulate the local economy. The projects will help partially fund the Valley's movement toward researching innovative technology and the eventual manufacturing of energy-efficient products.
"The energy revolution isn't going to happen in the future; it is happening right here and right now," Ryan said in a statement. "The money that we've secured is going to help us research, develop, commercialize, manufacture and then export the next generation of products that are going to bring good quality jobs back to the community."
Before the bill becomes a law, it must first go to the full House for a vote, which could be as early as next week. If the House passes the bill, it also needs Senate approval and the president's signature to become law.
The programs are:
- $2.2 million for a Warren business incubator that would focus on the creation and expansion of clean energy technology and alternative energy sources.
- $250,000 to help small businesses that focus on advanced energy programs receive money needed to bring their products to the market.
- $1.5 million for Youngstown State University to develop an advanced automotive fuels research and development center.
- $2 million for an expansion of the Niles sewer system in the areas around Mosquito Creek, U.S. Route 422, North Road and Main Street.
- $200,000 for the Western Reserve Port Authority's effort to expand its economic development capabilities. The authority wants to hire an economic development director who would help attract businesses to the Mahoning Valley.
The location of the business incubator in Warren has not been determined.
Warren Mayor Michael O'Brien was unavailable for comment Wednesday evening.
All of the projects meet U.S. Green Building Council requirements through its LEED system. The LEED system is a 100 point scale that determines the energy efficiency of a structure. It is verified through a third-party, which concludes a building or community has been designed and constructed with "green thinking" at the forefront.
In addition to the $6.15 million designated for the Valley, Ryan also said he secured an additional $2 million to create a National Polymer Innovation Center at the University of Akron and fund the research and development of a "sustainable, efficient and clean car."
The new building would "facilitate the commercialization of new technologies in emerging areas of soft matter science and engineering."