Mosquito Lake State Park goes to the dogs — and they love it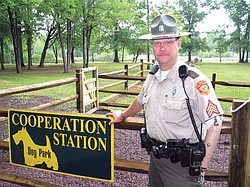 Photo
Sgt. Kevin Kuriatnyk, a park officer at Mosquito Lake State Park, stands near the entrance to the nearly complete Cooperation Station leashless dog park. The park is located inside Mosquito Lake State Park near the beach. The project was a joint effort of the state park and the Trumbull County MetroParks Board. The official grand opening will be at 1 p.m. July 17.
By Ed Runyan
Mosquito will be one of the few state parks in Ohio with a dog park.
BAZETTA — The dream of local dog owners and several Trumbull County and state officials — a dog park where dogs can run free and play — has become a reality.
One of the project's chief proponents, however, won't be present July 17 when the park is officially opened to the public.
Mike Grammer, manager of Mosquito Lake State Park, who worked with Mike Wilson of the Trumbull County MetroParks Board to get the project off the ground, died unexpectedly April 11 at age 56.
Wilson and Grammer began talking about their shared vision in February, and by early April, they had put together a plan that would use metroparks money, prime recreational land available at the state park near the beach, and volunteers from both groups to pull it all together.
"It's a win-win all the way around," Grammer said at the time, just a few days before he died.
"I think it's wonderful to be able to partner with the metroparks on projects like this," he said. "It avoids duplication. In this case, the metroparks had the money, and we had the location."
At the time, Grammer said the project looked promising, but it still required the approval of the U.S. Army Corps of Engineers — which owns the state park land — and the Ohio Department of Natural Resources, which runs the park.
By late May, all of the approvals were in place, and construction was begun.
YouthBuild Trumbull County provided much of the labor to install the split-rail fencing.
A variety of metropark and state park volunteers and metroparks officials helped with the rest of the work, which included digging out soil and replacing it with sand along the shore to create a beach and installation of a plastic chain-link fence on one side of the split rails.
The state park will handle maintenance of the dog park.
Tim Cook, a retired park officer who proposed the dog park to Grammer, said the project was a terrific collaboration among several groups.
He and Sgt. Kevin Kuriatnyk, a park officer, said finishing touches are being done on the 3-acre park, but some dog owners have already started to use the facility.
Rules for the park's use have been posted at the entrance, and those rules are also available in a pamphlet at the park office.
The dog park features two separate areas — a two-acre section for large dogs and a one-acre section for smaller ones. Beach access will be available to the dogs, and separate drinking stations for people and dogs are available.
Officials say Mosquito will be one of the few state parks in Ohio with a dog park, and it will be the first dog park of its kind in the Mahoning Valley.
The metroparks board had earlier planned to build a leashless, fenced dog park on the north side of Educational Highway near Kent State University Trumbull Campus in Champion, but that plan was halted when the state turned down the park board's request for a $24,000 grant.
Cook's dog park proposal at Mosquito was stalled for several years by lack of funding, officials said.
runyan@vindy.com
---
Rules:
All dogs must get along well with people and dogs of all sizes.
Users of the dog park do so at their own risk. Dog owners are responsible for injury or damage caused by their dog.
Dogs must be current with vaccinations; they must display current license and rabies tags.
No puppies under 4 months old allowed because they do not yet have all of their vaccinations.
Dogs in heat are not allowed.
Children are not allowed to play within the fenced area of the dog park.
No running, screaming, jumping or chasing dogs. It is recommended that children under age 12 stay outside the fenced area for their own protection. Parents or guardians assume all risk for their children.
Dogs must be closely supervised and within sight and voice control of their handler at all times.
Dogs may not be left unattended. Dog handlers must be at least age 18. No more than two dogs per handler.
Any dog displaying signs of aggression must be removed from the dog park.
Dog waste must be picked up immediately and placed in trash cans.
Dogs must be leashed when entering and leaving the dog park. Handlers must carry a leash at all times.
Gates should be left closed except when entering or leaving the dog park.
Digging is not permitted. Handlers are required to fill holes created by their dogs.
Source: Mosquito Lake State Park
More like this from vindy.com