GM layoffs force Lordstown village to cut costs with insurance change
Lordstown Village Council special meeting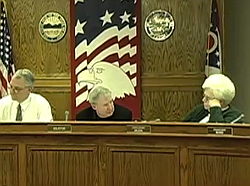 Video
Village employees will have a much higher deductible.
STAFF REPORT
LORDSTOWN — Village council has approved changes to the health insurance coverage for its 35 employees that it hopes will save around $115,000 this year.
The move, approved by council Thursday, is the second cost-saving measure the village has taken in the past month to reduce costs in light of the 2,800 layoffs announced in recent months at the General Motors assembly and fabrication plants.
Mayor Michael Chaffee said the change, which takes effect Feb. 1, involves changing the employees over to a health savings account, which involves setting aside a set amount for each employee's health care costs. The change was made with the cooperation of the village employees union, he said.
It will cost the village much less than the current plan because it uses a much higher deductible, Chaffee said.
At the end of December, village council approved a 2009 wage freeze for the full-time workers, plus 60 part-time employees.
The village will continue to look for other ways to cut costs as the year goes on, Chaffee said, including capital improvements such as road paving.
Chaffee said the village estimates that the elimination of 900 jobs on GM's third shift and 800 from the second shift, effective April 6, will cost the village around $1.5 million in income taxes this year.
The village estimates that about 75 percent to 80 percent of its approximately $4.5 million in income tax collections come from the Lordstown GM plants and related industries.
Chaffee said village officials hope the layoffs are not long-lived, but there is no way of knowing.
"We have no way of knowing how long this will last," he said. "We are not in crisis mode yet."
He added that if General Motors follows through with its plans to begin production of the Chevrolet Cruze in April 2010, "We'll be all right."
The village has benefited from strong income tax collections in recent years and has accumulated some carryover funds, Chaffee has said.
The Lordstown school system has said it doesn't expect the layoffs to affect its agreement with General Motors to pay the school system $350,000 per year.
More like this from vindy.com