Lordstown counting on the Cruze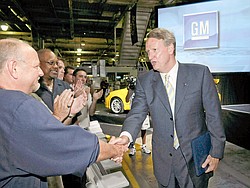 Photo
General Motors Chairman and CEO Rick Wagoner (right) greets attendees at a press conference announcing GM's $350 million investment to build the all-new Chevrolet Cruze global compact car at the plant in Lordstown, Ohio Thursday, August 21, 2008. An additional $150 million will be allocated the Chevy Cruze product program in the U.S. The Chevy Cruze will be officially unveiled at the upcoming Paris Motor Show.

Photo
Vice President of Daewood Design Taewan Kim with Chevrolet Cruze
The latest layoffs will leave just one-third of the Lordstown plant's hourly workers on the job.
By DON SHILLING
VINDICATOR BUSINESS EDITOR
LORDSTOWN — General Motors remains committed to its Lordstown complex despite laying off 800 more workers and trimming production to one shift, an analyst said.
Lordstown's future appears secure because GM is preparing to launch its next small car, the Chevrolet Cruze, from the complex in April 2010, said Erich Merkle, an auto analyst from Grand Rapids, Mich.
The Cruze has the exterior styling and interior design needed to attract strong sales, he said.
"It's going to be hard to beat that Cruze," he said.
A GM official said at a car show in Detroit this month that the company was in the midst of spending $370 million to install new equipment at Lordstown for the Cruze. Merkle said GM will not kill the project because Cruze development is too far along — European production will start this spring — and the car is too important for GM.
Merkle said he expects buyers to flock to the Cruze as auto sales and the economy rebound because consumers will be more conservative in their spending and will be looking for good values.
"Lordstown is as secure as any plant," he said.
The near term is bleak for Lordstown, however.
GM said Monday it is eliminating the afternoon shift at the complex April 6 and laying off 800 workers.
Between Feb. 9 and that date, the assembly plant will alternate weekly between using the day shift and afternoon shift.
Chris Lee, a GM spokesman, said GM needs to align its production with falling car sales.
Lee added that production also will be reduced at the adjacent fabricating plant but he wasn't sure how the staffing would be handled. The fabricating plant stamps metal parts that are used by the assembly plant.
Merkle said production cuts are needed because dealers have too many cars. He said GM had a 128-day supply of Cobalts on Dec. 31, which is twice the number automakers like to see.
By announcing more production cuts Monday, GM is admitting that January sales haven't done much to reduce the inventory, he said. GM shut down the Lordstown plant for all of January in order to sell off the Cobalts in dealer lots.
GM was caught with an unusually large inventory last fall when gas prices fell, credit markets tightened and the economy crashed. The field supply of Cobalts jumped to 220 days in October and rose to 239 in November.
The new layoffs will leave just one-third of the complex's hourly workers, or 1,400 people, on the job. GM announced in November and December that it was laying off 2,000 other workers because it was slowing down the speed of the assembly line and eliminating the midnight shift.
The midnight shift was added last August when the plant could not produce enough cars to meet demand.
A labor contract provides that laid-off workers receive about 85 percent of their regular pay in supplemental benefits from the company and state unemployment insurance.
Those benefits used to last for 48 weeks and then workers were placed into a jobs bank, which continued to provide them with a similar level of pay even if there was no work.
Lee said, however, that such benefits are under negotiation as GM tries to develop a viability plan required by the federal government. The plan has to be approved by March 31 or the company could be required to repay loans it's receiving from the government.
Lee said the benefits that workers will receive for long-term layoffs should be determined before the April 6 layoffs in Lordstown.
The struggles facing GM create struggles for the Village of Lordstown, as well.
The shift cuts at the Lordstown plant and loss of employees could mean village revenue will dip about $2.5 million, Mayor Michael Chaffee said.
The village has about 30 to 35 full-time employees, and all took an automatic pay freeze to generate some savings, he said.
Council met on Monday to discuss readjusting insurance packages, which will save the village about $115,000 to $120,000 this year.
"We're still providing very nice coverage to our employees," Chaffee said.
Laying off employees is not something the village is considering at this time, but the next couple months could yield different plans.
Cutting back on projects such as road paving, seasonal mowing and recreation programs are other saving options the village will consider.
However, Chaffee said, there are still many positives. The past two years enabled the village to build funds, plus Lordstown still has a plant and shifts, he said.
"As long as the Cruze moves forward, we'll be okay," Chaffee said, adding, "As bad as things are, we're still better than most,"
"Although these are tough times, we've survived tough times before." he said. "We hope this is short-lived."
GM also announced Monday that it was cutting a shift at its plant in Lansing, Mich., on March 30.
XContributor: Vindicator staff writer Katie Seminara