Dolled up, American Girl style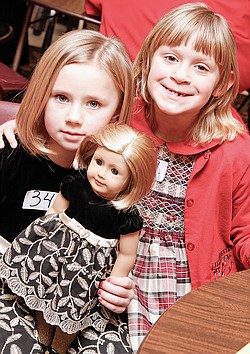 Photo
Kelley (or Sydney) Ferguson (7) and her friend Natalia Navicky (7) both of Austintown as they wait to audition for American Girl Fashion Show tryouts at St. Michael Church in Canfield, Sunday January 25, 2009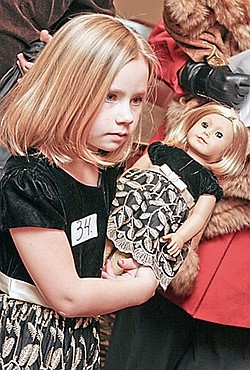 Photo
Kelley (or Sydney) (7) Ferguson of Austintown holds her American Girl doll as she prepares to audition for the American Girl Fashion Show tryouts at St. Michael Church in Canfield, Sunday January 25, 2009
Girls came from as far as Akron, Cleveland and Cuyahoga Falls to try out for the fashion show.
CANFIELD — Sydney Ferguson and Chloe Housteau look the part and have the total package when it comes to resembling American Girl dolls.
The two were among roughly 300 girls who took part Sunday in modeling tryouts, displaying their talents, poise and likeness to the dolls that have sparked a nationwide craze among young girls.
Angels for Easter Seals held tryouts at St. Michael Church. Those chosen to model will perform March 28 and 29 at the American Girl fashion show and luncheon at Mr. Anthony's in Boardman. The event is a fundraiser for Easter Seals, and officials said they hope to raise at least $20,000.
Girls were judged based on poise, confidence, stage presence and resemblance to an American Girl doll. They will model historical and contemporary fashions to show how clothing has changed over the years to reflect history, culture and girls' individual styles.
Linda Welsh of Hubbard, the show's coordinator, said a panel of judges will sift through headshots and score sheets to pick between 40 and 50 girls for each show.
"We're trying to make sure the girls look as much like the dolls as possible," she said. "And we want to give as many girls as we can a chance to be in the show."
Some girls came from as far away as Akron, Cleveland and Cuyahoga Falls to try out, Welsh noted.
Julie Costas, one of the event's co-chairwomen, said girls should be notified by telephone within about 10 days if they are chosen to participate.
"We got a lot of phone calls and hits on the Web site about [tryouts]," Costas said. "There has been a lot of interest."
Chloe, 8, of Boardman, attended tryouts with her mom, Angela Housteau, who said her daughter has lots of personality.
Hoping to make the cut, Chloe said she hopes her talent will set her apart from the competition. "I can sing, I can dance, I can act, I can do sports," the girl said with enthusiasm.
Chloe and her doll Samantha were dressed the same in outfits that her mom found at Burlington Coat Factory. "She loves American Girl dolls and this is something fun to do," Chloe's mom said. "And it's for a good cause."
Girls took part in interviews and were asked to smile, answer a few questions, tell judges a little about themselves and curtsy. Judges gave the girls scores from 1 to 5, with 5 being the highest.
Judge Madonna Pinkard, community relations director at WFMJ, seemed impressed with Chloe, calling her a "little lady extraordinaire" for her talent and attitude.
"Today I'm looking for style and personality," Pinkard said. "I have seen a lot of nervousness, but once they get one on one, they seem to open up a little bit."
Sydney, 7, of Austintown, was with her mom, Kelley Ferguson, at tryouts. Sydney and her doll Kit were dressed in matching black and gold dresses that her mom found at Dillard's.
The likeness between Sydney and Kit was uncanny, right down to the matching blond bob hairstyle, the dresses and blue eyes. The only thing Sydney was missing was a smattering of freckles, which her mom said they considered drawing on.
Sydney was with friend Natalia Novicky, 7, of Austintown and her mom, Dinah. Natalia attends an occupational therapy program at Easter Seals. Her mom said taking part in the fashion show would be a great opportunity for Natalia to show support for the programs that help her.
Dinah adopted Natalia four years ago from Ukraine. "I just thought it would be kind of cool for her to be a part of this, especially because she is an American girl now," the mom said.
American Girl, headquartered in Middleton, Wis., aims to build strong character in girls around the world. The company has retail outlets in a handful of big cities, using witty marketing and wholesome products including dolls, accessories, books and movies to appeal to girls and their moms.
Organizations wishing to use the American Girl fashion show as a fundraiser must apply through the company and be at least 60 miles from other cities hosting shows.
"It took me four years to get this here," Costas said, explaining this is the first American Girl show in the Mahoning Valley. "This is going to be a huge event."