At Mosquito, dozens get 'crazy for a good cause'

Photo
L-R Patrick Kocovsky, Carey Knight and Michael Jonas of the Salty Quackers dove in to Mosquito Lake for Polar Bear Plunge, Saturday January 24, 2009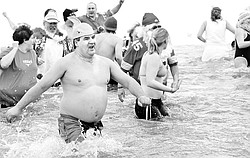 Photo
Ryszard Olek of Brookfield wears a shark fin hat as he dove in to Mosquito Lake for Polar Bear Plunge, Saturday January 24, 2009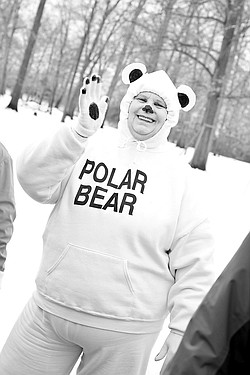 Photo
Wilma Selmon of East Liverpool dressed up as a Polar Bear for the Polar Bear Plunge at Mosquito Lake, Saturday January 24, 2009
The local event usually raises at least $13,000 for Special Olympics.
CORTLAND — Michael Jonas said everything he's ever heard about jumping into a lake in the middle of winter is true.
Like, the less you wear, the better.
And making the trip into the water is much easier than climbing back out.
"It's really not that bad," the 38-year-old Cleveland man insisted. "The water's fine. It's when you come out and feel the wind and the cold air and — if you're like me, you try walking in cold tennis shoes with no socks through the snow — then you realize what you just did."
Jonas joined dozens Saturday who took "the plunge" into Mosquito Lake in Bazetta Township to raise money for Special Olympics Ohio. Just as many stood by witnessing the plunge, content with being spectators.
Saturday's event marked the first of eight "Freezin' For A Reason" Polar Bear Plunges in the state. Sponsored by the Trumbull Moose Lodge in Warren, the local plunge typically raises at least $13,000 a year, according to Shawn Peura of Warren, coordinator of the local plunge and a participant.
"You see a lot of people in shorts and swimming clothes," Peura said. "It's actually a great experience. People who do it once usually want to do it again."
Saturday's event marked the fourth plunge at Mosquito Lake. Plunge participants obtain monetary pledges of at least $75 each and then agree to enter the water through a hole carved in the ice. Event organizers said the ice at Mosquito on Saturday was 8 inches thick.
All money raised from the activity benefits the more than 22,000 Special Olympics athletes in Ohio, officials said.
On Saturday, some participants dived while others ran into the water or jumped into the giant opening carved into the ice. Most people waded in the water that was waist-deep and, according to organizers, about 34 degrees.
A few folks went in head first, bodies fully immersed. They screamed. They shook. And then, shivering beneath towels and blankets, they scurried back to the warmth of the registration tent to exchange wet shorts and swimsuits for dry clothes.
"It's all over in a matter of minutes," said Erin O'Rourke, 51, of Warren. "It's too cold to hang around the lake too long or to even stay outside, for that matter. It's very cold. Don't let anyone tell you it's not. The key is to jump in and hurry up and get out. Then get into some warm, dry clothes."
O'Rourke is a veteran plunge participant, having made the jump for Special Olympics numerous times while a student at Youngstown State University and during the past several years at Mosquito.
"It sounds crazy, but we're crazy for a good cause," she said. "It's for the kids. It's a way to generate some money for a good cause and make people aware of the organization and the kids it helps. That's what it's all about.
"If you're going to be crazy and go jump in a lake, at least you can do it for the kids."
Other Polar Bear Plunge events scheduled are:
Feb. 7, Ohio River, Newport on the Levee, Ky.; Feb. 7, Lake Erie, Cedar Point, Sandusky; Feb. 14, Ohio University, Athens; Feb. 21, Geneva State Park in Geneva-on-the-Lake; Feb. 28, Crew Stadium, Columbus; March 7, Grand Lake St. Mary's, Celina; and March 14, Greater Dayton Plunge, Watson's Pool, Centerville.