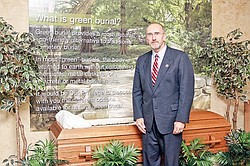 Photo
Joseph Lane, president and chief operating officer of Lane Funeral Homes, stands with a green burial display that offers clients an explanation of a more natural and environmentally friendly form of burial. Green burial is defined as a body's returning to the earth naturally, without embalming fluid and with biodegradable materials.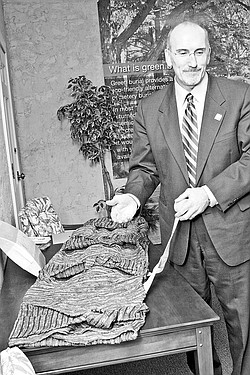 Photo
When a person dies and chooses the complete form of green burial, the body must be wrapped or placed ina biodegradable material. Joseph Lane, president and chief operating officer of Lane Funeral Homes, shows a shroud made of sea grass that could be used in green burials. Green burial "is something different and not for everyone, but it's something we can't ignore," Lane said. At the Lane Funeral Home in Canfield, an entire display is dedicated to green burial products, including wooden and wicker coffins.
By KATIE SEMINARA
Hybrid vehicles, reusable grocery bags and energy-efficient light bulbs come to mind when some people think of conservation.
Now, the last possible way for a person to "go green" is offered by some local funeral homes — through green burials.
"It's going back to a simpler form of burial," said Dan Becker, chief operating officer of Becker Funeral Homes.
In the process of a green burial, an unembalmed body is wrapped or placed in biodegradable materials, laid in the ground without a vault and the gravesite is generally left unmarked.
"The ultimate, true green burial is to be wrapped in a blanket and put in the ground," said David Knarr, funeral director and director of operations for Lane Funeral Homes.
Becker and Lane funeral homes are the only two operations in the area that are certified by the Green Burial Council to offer this burial option.
Founded almost four years ago, the GBC was established to evolve burial practices that would help sustain the environment, said Joe Sehee, executive director and founder.
Since creating the council, about 200 funeral homes, crematories and cemeteries nationwide have been certified to practice green burial methods.
"People realize there's a shift going on in death care," said Sehee.
"Rituals can't be dictated," he said, adding that he believes wedding ceremonies have diversified over the years and now funerals seem to be taking a turn as well.
Green burials vary by each cemetery's rules. Most require that coffins be placed in a steel or concrete vault, Knarr said.
Vaults are often required for cemetery maintenance and upkeep. Without vaults, the ground can sink and headstones can overturn.
Funeral homes take all requests into consideration when planning ceremonies and both the Becker and Lane operations try to accommodate the needs of families who wish to be environmentally savvy.
"Our theory has always been to do what the people want," said Becker.
"Death is such a personal thing and there's different strokes for different folks," he said.
Green burial "is something different and not for everyone, but it's something we can't ignore," said Joseph Lane, president and chief operating officer of Lane Funeral Homes.
Becker has worked with families who chose to eliminate embalming as a step toward green burials. Contrary to some popular belief, there are very few laws that state bodies must be embalmed. Embalming is necessary only if the person had a communicable disease and in some cases when a body is traveling across state lines, Becker said.
The majority of green funeral requests Lane Funeral Homes receives involve inquiries about wood and biodegradable coffins.
"No one wants to put steel or copper caskets in the ground," said Knarr of those who inquire about options.
His industry has now "opened our eyes to all things green," said Lane, noting that recycling has become more regular and energy-efficient lighting is in the works.
"We're all trying to do our part to heal the planet," Sehee said.
Foxfield Preserve in Wilmot, Ohio, Stark County, is about 80 miles from Youngstown and offers the complete green burial experience.
Both Becker and Lane funeral homes offer information about Foxfield, which is one of nine cemeteries of its kind in the country.
"It's a beautiful place and doesn't look at all like a cemetery," Knarr said.
That's because "it's a nature preserve first," said Gordon Maupin, executive director of the wilderness center that operates Foxfield.
Foxfield, which opened last August, is just like a park, and gravesites are not maintained; they become part of the scenery, Maupin said.
The same rules of green burials apply to those wishing to make Foxfield their final resting place. Natural granite markers are allowed, and coffins made of wood, wicker, willow, and papier mach are acceptable as well as cotton shrouds and even family blankets, said Maupin.
Though the nature preserve cemetery and green burials are fairly new, the idea has been "highly accepted," he said.
"Green burials appeal to [environmentalists'] moral and ethical values," Maupin said. "From our standpoint, it's a way for people to give back to planet earth."
More like this from vindy.com