U.S. Route 224 project in Valley hits a bump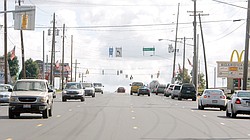 Photo
MARKET STREET MESS: Drivers unfamiliar with the major U.S. Route 224/state Route 7 intersection near the Circuit City store and Southern Park Mall in Boardman have apparently been confused by temporary road striping, causing increased accidents there.
By Denise Dick
The project is a victim of budget shortfalls.
BOARDMAN — A couple of years ago, residents and state and local officials met regularly, trying to hash out solutions to the Mahoning Valley's biggest traffic headache.
But over the past year or so, talks on how to fix U.S. Route 224's congestion, traffic volume and high number of accidents have gone cold.
The project, in the works for several years, has been a victim of a shrunken state budget, said Paula Putnam, a spokeswoman for the Ohio Department of Transportation District 4. "When Gov. [Ted] Strickland came into office, he wanted to review all of the projects," she said.
One outcome of that review was the addition of a new criteria — economic impact — to the state Transportation Review Advisory Council's investment prioritization criteria for selecting transportation projects. TRAC, the panel that chooses major new transportation projects, will judge projects on transportation factors, economic growth and development and local/private investment commitment.
Among the new scoring criteria will be a benefit/cost ratio to measure the public benefit of the project instead of only the transportation problem, a category to gauge a project's air-quality impacts and a category to score whether projects connect modes of transportation. Another factor will be how future projects position land for redevelopment, reclaim brownfields and improve access to job centers.
In 2004, ODOT and Eastgate Council of Regional Governments split the cost of a $1 million study to make recommendations for improvements to the 6-mile stretch of Route 224 between state Route 11 in Canfield and Interstate 680 in Poland.
Suggestions included an underpass at Market Street, access roads, median strips, creating a back road south of Route 224 beginning opposite the Route 11 ramp on Raccoon Road and ending near the turnpike and creating a back road north of Route 224 that would parallel Route 224 behind commercial development between Raccoon and the turnpike.
That was at step four in a 14-step process to make recommendations. The process stalled after that.
Jean Doyle of West Boulevard and Julie Palusak of Squirrel Hill Drive both served on the citizens committee appointed to participate in the study, offering their input.
"We met a couple of times, but then I never heard anything about it," Palusak said. She believes she was asked to participate because she frequently voiced concerns to township officials about high traffic through her neighborhood. "People use it as a cut-through," the mother of three said of her street.
Doyle said she attended a couple of meetings, and then the effort seemed to fade. "I don't think we really accomplished much," she said. "I think they have to get back on it again."
Kathleen Rodi, Eastgate's director of transportation, believes the project will move forward. "This is just temporary," she said.
Other projects borne out of the study are progressing, Rodi said. She mentioned the addition of turning lanes last summer at Route 224 and Tippecanoe Road/Lockwood Boulevard and the upcoming work at the South Avenue intersection.
Putnam said ODOT still plans to widen a portion of 224, adding right-turn lanes from just east of Boardman Park Drive to just west of South Avenue as well as dual left-turn lanes from Route 224 to South. Work also will include traffic-signal improvements to 15 signals from Parkside Drive to Tiffany Boulevard. Estimated cost of the project is $6.2 million, and ODOT expects to award the contract in April.
Interchange modification studies are under way for Route 11 at Route 224 and at the Interstate 680 off-ramps onto 224.
The Route 11 project includes a recommendation for the addition of a right-turn lane in the westbound lane of 224 to improve access to northbound Raccoon Road and state Route 11, and an additional access to Route 11 off Raccoon Road south of 224.
At I-680, a study is under way to address traffic woes of travelers coming off the southbound interstate and trying to travel west onto 224.
denise_dick@vindy.com