City schools may consider 4-day week for savings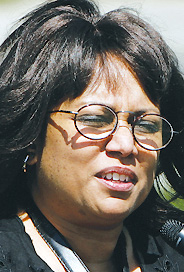 Photo
Youngstown City Schools superintendent Dr. Wendy Webb
A shorter school week and more cuts in personnel are among items the superintendent proposed be studied.
YOUNGSTOWN — School officials here say they have been good stewards of the public's money, but if the state cuts funding to the district, drastic changes may be needed.
Schools Superintendent Wendy Webb told school board members Tuesday that the district could be operating in the black by $1.7 million by 2011, taking into account the $5.2 million a recently passed levy will generate. Those figures, however, will need to be adjusted if the state cuts funding to the district.
According to district Treasurer William Johnson, state funding accounts for 80 percent, or about $65 million, of the district's budget. Johnson and Webb told board members the district could lose up to 10 percent of that should the state scale back funding to make up for budgetary concerns at the state level.
Webb introduced a list of possible cost-reducing measures the district could put into place if that happens. She hopes to meet with board members twice a month in the coming month to discuss the changes.
One point of those discussions could be the transition to four-day school weeks, Webb said. Under that schedule, she said, each school day would be longer, but all schools would be closed on Friday.
The change in school days could save the district about $599,000, Webb said, noting that a school district in Kentucky uses a similar system.
"It would not minimize the instruction, it simply reorganizes and looks at how you manage your resources," she said. "If in fact the governor does this, we have got to look at something creative to maintain and go forward."
Another idea up for consideration could be the reorganization of the administrative building on Rayen Avenue. Webb said administrative offices would be located in various district buildings and pupils placed at the Rayen Avenue building.
That would enable the elimination of two supervisory and two administrative positions for a savings of about $350,000, she said.
Webb also mentioned reducing personnel by seven maintenance workers, 15 teachers and two security guards. The reductions, she said, would save the district more than $1.7 million.
Potential savings on transportation by reducing busing to state minimums was also discussed. State minimums would mean the elimination of busing for high school students and younger pupils living within two miles of their schools, she said.
The superintendent said it's important to note that all the potential changes discussed with the board are open for future debate and depend largely on what happens with state funding.
"This is contingent upon what the state does. Every district subsidized by the state is holding their breath," she said. "None of this is set in stone. We are at the mercy of the state."