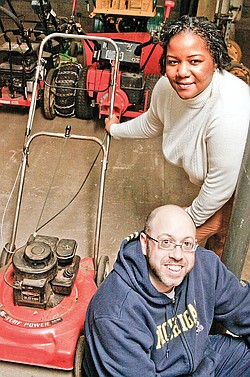 Photo
Weed & Seed Coordinator Terri Bryant (top) and Ricky George amongst donated lawnmowers for the Weed & Seed program
Lawn mower training program to start despite criticism
YOUNGSTOWN — The North Side Weed & Seed lawn mower program made it into U.S. Sen. Tom Coburn's "2008: Worst Waste of the Year" report for 2008 federal spending.
Weed & Seed is a federally funded program that aims to reduce violent crime, drug abuse and gang activity in a target area. The second part of the program provides community-based services.
Coburn, an Oklahoma Republican, is ranking member on the Senate subcommittee on federal financial management. His 49-page report issued last month lists 65 examples of what he termed wasteful government spending that total $1.3 billion.
"The waste highlighted in this report is only a fraction of the more than $385 billion the federal government throws away every year through waste, fraud and duplication," Coburn said on his Web site.
Under the Weed & Seed section, Coburn listed several examples of how some of the $32.1 billion appropriated for 2008 was used, such as a "shred-a-thon" in North Carolina where outdated personal papers were shredded for mulch for the Community Peace Garden; hip-hop classes in Allentown, Pa.; a talent show in New Mexico; and lawn mower maintenance classes in Youngstown.
Coburn said that though many of the events may have been fun or even educational, it's difficult to demonstrate how the activities had an impact on crime or advanced the mission of the U.S. Department of Justice. He said that although Weed & Seed's goals may be laudable, few studies are available to demonstrate the effectiveness of the program and some activities have little to do with supporting law enforcement priorities or crime prevention.
"It is unfortunate that Senator Coburn does not understand the importance in community pride and the positive affect it has in combating crime," said Ricky S. George, administrator of the $175,000 grant and associate director for Human Services at Youngstown State University. "It is obvious the senator is out of touch with the issues that lead to crime."
Last summer, the North Side Weed & Seed solicited lawn mowers with the idea that 10 North Side kids could learn how to maintain them and then earn money cutting grass. George said 15 used mowers were donated from all over the Mahoning Valley, not just Youngstown. He said eight to 10 youngsters showed an interest.
The mowers, though, arrived too late in the summer to hold the training before school started, he said.
The plan is to pay a shop teacher from Choffin Career Center $1,000 to conduct 50 hours of training, he said.
George said the grant year expired in December but because all the money wasn't spent, an extension was obtained that allows funds to be spent through May. The lawn mower training will take place in late spring, and participants get to keep the donated mowers.
"The kids will have all summer to cut grass, earn money and make their neighborhood look better," George said. "We're hoping they get interested in a trade."
He said Weed & Seed will advertise again for those interested in participating. The training is limited to 10 North Side youngsters though more may be accommodated.
meade@vindy.com
SEE ALSO: Claims of wasteful federal spending.