Model train show makes annual stop in Niles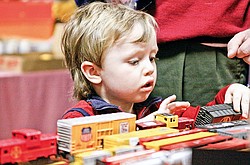 Photo
Hadley Reese (3) of Youngstown plays with model trains at McMenamy's Banquet Hall in Niles for the 2009 Winter Flea Market hosted by Youngstown Model Railroad Association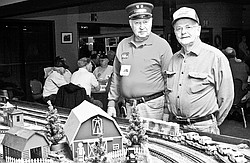 Photo
Jim Pope and Ray Lora of Salem stand inside McMenamy's Banquet Hall in Niles for the 2009 Winter Flea Market hosted by Youngstown Model Railroad Association,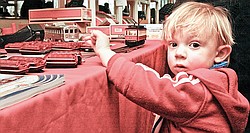 Photo
Kaden (2 1/2) Larson of Akron plays with blinking lights and a miniature railroad track at McMenamy's Banquet Hall in Niles for the 2009 Winter Flea Market hosted by Youngstown Model Railroad Association.
More than 600 enthusiasts turned out for the Youngstown Model Railroad Association's 2009 Winter Flea Market.
NILES — Hadley Reese loves sitting in the back of his family's car waiting for trains to go by.
He likes watching the rail cars as they move along the tracks; he likes hearing the sounds they make.
"I just like them," the 3-year-old whispered, never taking his eyes off the miniature locomotives on the table at McMenamy's Banquet Hall on Sunday. "I just like them."
Hadley also likes being at events such as the Youngstown Model Railroad Association's 2009 Winter Flea Market, which took place at McMenamy's on Sunday afternoon. He and his dad, Terry Reese of Youngstown, try to attend as many area train shows and flea markets as possible. They were among the more than 600 people who turned out for the flea market despite the snow-covered roads and the cold.
The association sponsors the fundraiser for purchase of a building to house the club's model train displays.
Hobbyists and model train enthusiasts were treated to an abundance of miniature rail cars, locomotives and accessories — from trees and houses to fast-food restaurants and windmills — that can be used to make any display look more like a neighborhood, town or city.
"It's nice to see the young people here," said Jim Pope, flea market chairman and association president.
"We get concerned because as members of the club we want to encourage young people to get involved in model trains. But there's a lot to compete with. Young people are into computers and video games and everything. But I'm afraid model train collections and interest in the hobby are becoming more and more a thing of the past."
Pope joined the association shortly after it was established some 51 years ago. He said the club has about 45 members but is always looking to grow. For two weekends each November the club sponsors an open house at the old Four Mile Run Church in Austintown, where its model train displays are kept. The show allows the public to see the work association members put into the train displays.
"It's amazing what can be done with the model trains," said Janet Evans of Howland. Evans is the lone female member of the local club and concentrates her efforts on creating scenery for the models on display at the former church building.
"I think there was a time when young people weren't interested so much. But I think that's changing. I think more and more you're seeing families interested in working on model trains together."
Just as the Reese family credits Hadley with sparking their interest in model trains, Bob and Elena Marcum of Austintown said their 6-year-old grandson Blake has them looking more closely at train displays and miniature accessories.
"Not only that, we've also become train chasers," Elena Marcum explained. "We go after trains. We see one or hear it and follow the tracks. We love them. There's just something about them that's very fascinating. We love the shows and events that have to do with trains."
Ray Lora of Salem said his childhood dream was to become a locomotive engineer. He worked with model train sets off and on throughout the years but started dedicating more of his time to the hobby after retiring about eight years ago. He frequents association flea markets and events to see if he can find any small treasure to accentuate the model train set he has on display at home.
"The trains used to go by our house when I was a boy and I loved watching them," he said. "They fascinated me. Kids today don't really have that. There aren't nearly as many trains around as there used to be. It's a shame. Kids today know TV and computers and the Internet. And there's value in all of that. But I think kids today are missing something. Every kid should have a train set. But the interest isn't there because they can't really have an interest in what they don't see.
"When I was a kid, all the boys wanted to be train conductors or engineers. You don't hear that anymore. I think for many of us older people, the model trains give us some of our youth back, give us a little bit of that old dream again. It takes us back to a place we're comfortable with, where we can be kids again."