More than 600 model-train enthusiasts make stop in Niles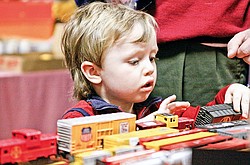 Photo
Hadley Reese (3) of Youngstown plays with model trains at McMenamy's Banquet Hall in Niles for the 2009 Winter Flea Market hosted by Youngstown Model Railroad Association
NILES — Hadley Reese loves sitting in the back of his family's car waiting for trains to go by.
He likes watching the rail cars as they move along the tracks; he likes hearing the sounds they make.
"I just like them," the 3-year-old whispered, never taking his eyes off the miniature locomotives on the table at McMenamy's Banquet Hall on Sunday. "I just like them."
Hadley also likes being at events such as the Youngstown Model Railroad Association's 2009 Winter Flea Market, which took place at McMenamy's on Sunday afternoon. He and his dad, Terry Reese of Youngstown, try to attend as many area train shows and flea markets as possible. They were among the more than 600 people who turned out for the flea market despite the snow-covered roads and the cold.
The association sponsors the fundraiser for purchase of a building to house the club's model train displays.
Hobbyists and model train enthusiasts were treated to an abundance of miniature rail cars, locomotives and accessories — from trees and houses to fast-food restaurants and windmills — that can be used to make any display look more like a neighborhood, town or city.
"It's nice to see the young people here," said Jim Pope, flea market chairman and association president.
"We get concerned because as members of the club we want to encourage young people to get involved in model trains. But there's a lot to compete with. Young people are into computers and video games and everything. But I'm afraid model train collections and interest in the hobby are becoming more and more a thing of the past."
Pope joined the association shortly after it was established some 51 years ago. He said the club has about 45 members but is always looking to grow. For two weekends each November the club sponsors an open house at the old Four Mile Run Church in Austintown, where its model train displays are kept. The show allows the public to see the work association members put into the train displays.