'We got boxed out' says fan amid Pavlik ticket frenzy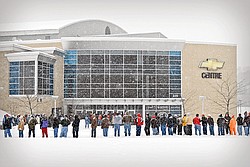 Photo
Kelly Pavlik fans wait in line at the Chevy Center on Saturday morning, during a big storm.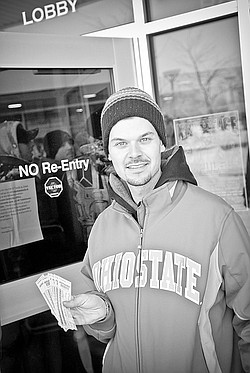 Photo
Ray Lewis of Youngstown holds up 6 tickets for the up coming Kelly Pavlik fight. Lewis waited in line at the Chevy Center on Saturday morning during a big snow storm.
YOUNGSTOWN – Kelly Pavlik's title fight against Marco Antonio Rubio is a knockout -- and the first punch won't be thrown for weeks.
Hundreds of boxing fans, braving fierce winter weather that dumped inches of snow on the ground, stood in line this morning outside the Chevrolet Centre to buy tickets for the Feb. 21 fight, hoping to see their hometown hero defend  his WBO and WBC middleweight titles.
But many of them left disappointed, with no tickets.
Within minutes after tickets went on sale at 10 a.m., people began leaving the box office area saying that all the $50 and $100 tickets for the fight were sold out.
"If you're going to get tickets, all that's left are $200 and up," one man said as he left the box office lobby.
That left many of the hopeful ticket-buyers stunned and disappointed. Most of those who weren't fortunate enough to grab some of the cheaper tickets simply walked away, including 54-year-old Bob Cole of Farmdale.
"We waited in line four hours," said Cole, who said he was bitterly disappointed at being shut out of tickets for the fight. "This is Youngstown. In this economy, most people can't afford to pay more than $50 or $100 for a ticket."
The most expensive seats, within six rows of the ring, sold for $500 each. Ticket prices for the rest of the house were $300, $200, $100 and $50.
Carmen Silvestri, of Boardman, also was among those who left the Chevrolet Centre without tickets for the fight.
"We got boxed out, I guess," said Silvestri, 57. "We got nothing."
Silvestri, who's been to other Pavlik fights, said he was shocked to find a line waiting outside the building when he arrived early Saturday morning, and hadn't come dressed for waiting in the cold and snow.
He'd had ticket offers from friends, but said he opted to go it alone because he wanted to buy extra tickets for his three children, who are fans of The Ghost.
"I never thought I'd be standing in line like this," he said. "Honest to God, I thought I would walk up here, walk in, get my tickets and leave."
George Baker, 54, of Liberty, also was among those in line waiting for the box office to open. Like Silvestri, Baker said he wanted to buy tickets as a belated Christmas gift for his children.
"This is a major event," said Baker, who had a large, blue sock covering a cast on his left foot. "It's going to be spectacle. Who knows if you'll ever see a championship fight again, especially in such a close setting."
Some 200 people were lined up outside the building by 9 a.m., and that number had doubled by the time tickets went on sale an hour later.
A group of five friends were at the head of the line, waiting since 11:30 p.m. Friday night.
"It's Kelly. We support him," said 21-year-old Brian Mellott of Austintown, explaining why they waited so long. He was with his friends Brian Palmer, 23, of Youngstown, Lee Nicholson, 34, of Boardman, Ray Lewis, 31, of Youngstown, and Tiffany Lyden, 22, of Austintown.
All five got to the box office and got tickets, although not all of them got what they wanted because of the quick sale.
Eric Ryan, executive director of the Chevrolet Centre, said the reason so many tickets were sold so quickly is that tickets were being sold through Ticketmaster as well as at the box office. Tickets went on sale simultaneously at all Ticketmaster outlets and on its Web site, ticketmaster.com. Signs were posted both inside and outside the Centre, advising fans of the simultaneous sale.
He said 5,000 tickets were sold within 12 minutes of them going on sale.
Ryan said he felt bad that so many people didn't get tickets after waiting in line, but said it's to be expected.
"That's what happens when you have such a high-demand event. It's awesome," he said.
And while people were disappointed at not being able to buy $50 and $100 tickets, Ryan said there's nothing that can be done to avoid such a thing.
"You can't reserve a certain number [of tickets] for the box office," Ryan said. "When they go on sale, they all go on sale everywhere. That's the way it is, whether it's the Rolling Stones playing at Cleveland Browns Stadium or it's Kelly Pavlik fighting at the Chevrolet Centre."
Steve Dunn, head of security at the Chevrolet Centre, said extra security guards and police were on hand for the morning because officials expected the tickets to go quickly. There were disgruntled fans, but no incidents.
Dave Plegge, 57, of Salem, was among those who'd hoped for the cheaper tickets, but ended up buying a pair of $200 seats.
"I just love boxing," said Plegge, whose brother, Bobby, was once an Ohio state champion at the junior welterweight level.
By 10:30, the box office lobby had cleared out and most of the cars were gone from the parking lot.
"I've never seen anything like it," Ryan said of the rapid sale. He said there were still tickets for $200, $300 and $500 available, and he did not expect the fight to sell-out on Saturday.
"That's typical for fight tickets," he said. "Those higher-end tickets will take a little longer to sell."