5,000 Pavlik tickets sold in 30 minutes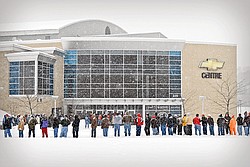 Photo
Kelly Pavlik fans wait in line at the Chevy Center on Saturday morning, during a big storm.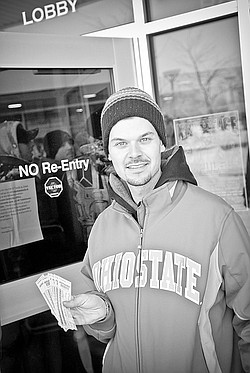 Photo
Ray Lewis of Youngstown holds up 6 tickets for the up coming Kelly Pavlik fight. Lewis waited in line at the Chevy Center on Saturday morning during a big snow storm.
Wow.
Mother Nature wasn't the only one providing blizzard activity today.
Fans of boxer Kelly Pavlik created their own.
By 10:30 this morning, more than 5,000 Pavlik tickets were sold.
And if you were eager for the cheap seats of $100 and $50, those were gone in minutes.
Shocked, stunned and saddened were the emotions of the more than 200 people who were down at the Chevy Centre this morning.
Only an hour earlier, they were pumped with excitement waiting for the sales to start.
By 9:50, Chevy Centre staff opened the doors to line people up for the 10 a.m. sales start.
Within minutes, fans were coming out the doors saying the $50 and $100s were gone.
We'll update this story later today.
EARLIER POST:
Watching ticketmaster.com, as of 10:15 this morning, you could no longer buy pairs of tickets in the $50 and $100 sections for the Kelly Pavlik fight.
Tickets went on sale at 10 a.m. Pairs of $50 tickets could not be purchased by 10:02 a.m. and $100 pairs weren't offered by 10:08 a.m.
We will update this as the day proceeds.
We have staff at the Chevy Centre this morning.