Published: Fri, January 9, 2009 @ 12:10 a.m.
Cell Closing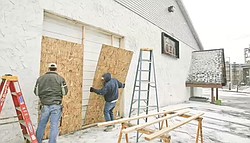 Video

Photo
CLOSING A BAR: The Cell, a bar at 221 Belmonst Ave., is boarded up after Judge John M. Durkin of Mahoning County Common Pleas Court issued a temporary restraining order that declared it a public nuisance. Telly Dutton, left, and David Gordon, of National Fire Repair in Youngstown, apply the plywood.
The bar near YSU has been 'an epicenter for unlawful activity,' the city prosecutor said.
YOUNGSTOWN — A lower Belmont Avenue bar that catered to young adults has been padlocked and boarded up by order of Judge John M. Durkin of Mahoning County Common Pleas Court.
Judge Durkin declared The Cell, 221 Belmont Ave., a public nuisance Thursday and issued a temporary restraining order to close it, inventory its contents and secure it until further notice at the request of Jay Macejko, city prosecutor.
Continued illegal alcohol sales and other violations of the law at The Cell "will cause immediate and irreparable harm to the City of Youngstown and the surrounding community by negatively affecting the public decency, sobriety, peace and good order of the neighborhood," according to Judge Durkin's order.
Anyone trespassing on the premises or mutilating or removing the order posted at the bar will be punished by contempt of court, the order says.
Judge Durkin will conduct a 10 a.m. Jan. 20 hearing on Macejko's request for preliminary and permanent injunctive relief against the bar, which is in the shadows of the Mahoning County jail.
Named in Macejko's civil complaint for nuisance abatement are the property owner, William S. Matsouris, of North Jackson, and his tenant, Jason Moore, of Girard, who operates the bar.
"We are being wrongly accused of something we did not do, and it'll be proven in court," Moore said, declining to make any further comment.
Matsouris could not be reached for comment.
Macejko alleges that underage sale and possession of alcohol occurred at the bar and that bar employees obstructed liquor enforcement agents entering the establishment.
State liquor agents reported receiving complaints concerning The Cell since 2003, but the current management took over in mid-2006, Macejko said.
"We see 99 calls for service from the Youngstown Police Department. We have 32 complaints to the liquor control board resulting in 50 arrests for liquor violations and other violations of the law," since mid-2006, Macejko said in an interview.
"We have dozens of Youngstown police reports involving disorderly conduct, resisting arrest, felonious assault, assault on police officers and thefts. It is just such an epicenter for unlawful activity that we have to act," Macejko added.
"We want to send a strong message to other bars or businesses that are allowing or engaging in criminal activity that it will stop; and it turns out that The Cell may be the first of many to fall," Macejko said.
Most recently, liquor agents issued four underage drinking citations at The Cell on Dec. 20 and two more Jan. 3.
Macejko's complaint cites two specific incidents:
Youngstown police charged a 19-year-old man with aggravated-vehicular assault after a Poland Avenue crash on Aug. 20, 2008, in which his passenger was severely injured. Police said that driver, who had a blood-alcohol content of 0.208, had been drinking at The Cell just before the crash.
Ohio's minimum legal drinking age is 21; and the legal limit for driving is 0.08 for adults. For those under 21, the limit is 0.02, making the 19-year-old's BAC 10 times the legal limit.
When an Ohio State Highway Patrol trooper arrested a woman on a drunken-driving charge April 6, 2007, an inventory of the vehicle she was driving revealed 29 grams of powdered cocaine, 24 grams of heroin, four grams of crack cocaine and an unspecified amount of marijuana, which the driver said someone gave her to deliver to The Cell. A gram is 1/28 of an ounce.
Liquor agents have witnessed loud music, yelling, improper parking and fighting at The Cell, according to the complaint.
Matsouris and Moore have "permitted, committed or acquiesced to the illegal activity" at The Cell, the complaint alleges.
In affidavits attached to the complaint, a city police patrolman and sergeant and a state liquor agent said The Cell's general reputation in the community is that of a bar where underage people can be served alcohol.
milliken@vindy.com