---
Wednesday, January 7, 2009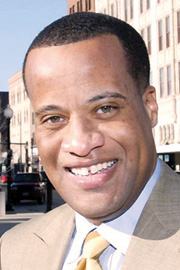 Photo
Youngstown Mayor Jay Williams
YOUNGSTOWN — City officials and the owner of the Mahoning Valley Phantoms are negotiating to bring minor league hockey back to the Chevrolet Centre.
The city and Bruce Zoldan, owner of the Phantoms junior hockey team, are talking with the owners of the Wheeling [W. Va.] Nailers, an ECHL franchise, about relocating to Youngstown.
"I've had multiple conversations with Wheeling and there's very strong interest" in coming to Youngstown, Zoldan said.
"I'm cautiously optimistic we'll have an ECHL team next season," Mayor Jay Williams said.
There have also been preliminary discussions with the owners of the Dayton Bombers as well as with teams from lower leagues. But the conversations with the Nailers are more serious, Zoldan and Williams said.
If a deal is to be made it will have to be done quickly.
Brian McKenna, ECHL commissioner, said the deadline for Youngstown joining the league for the 2009-10 season is Jan. 21 when the league convenes its midseason meeting at Reading, Pa.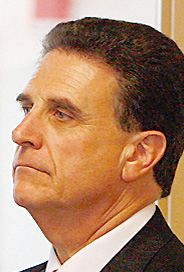 Photo
"Right now, there is nothing firm in front of me," McKenna said. "That doesn't mean that something couldn't be" by Jan. 21.
Regarding getting a deal done before the deadline, Williams said, "I don't think it's insurmountable. It won't be easy, but it's not insurmountable."
Zoldan said he expects a decision as to whether he'd be involved in a partnership with the owners of a current hockey team would be made before Jan. 21.
For the complete story, read Thursday's Vindicator or Vindy.com