Gone fishin' for a new home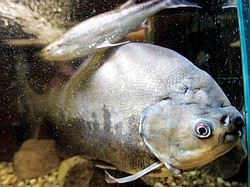 Photo
Clint Nagy's 19" Red Belly Pacu in a 125 gallon tank at his Youngstown home. Nagy is now trying to find the fish another owner with a larger tank.
A fish fanatic is seeking a place for his Paco.
CORNERSBURG — Readers of the classified section may have momentarily paused while searching for man's next best friend. Seven years old, 19 inches long, and free — is anyone suited to care for this red-bellied pacu?
Its owner is losing hope that someone around Youngstown will give Paco — the pacu — a good home.
And a home doesn't include a frying pan.
Owner Clint Nagy, 35, a self-described "fish lover," said he bought the omnivorous pacu, a close relative of the piranha, with the understanding that it could grow up to 3 feet in length. When Paco went home with him he was only an inch long, but after a few years and a couple of tank upgrades, Nagy has decided someone else could give his freshwater friend a better life.
"When he was starting to get to this size, he became too much work," he said. "Now he's a become a burden."
Nagy said the 125-gallon tank it shares with several smaller fish is too cramped for the sometimes angst-ridden Paco. The 5-pound fish has broken tank heaters and glass covers, even launching himself out of the tank and onto the floor during moments of excitement.
"Pacus have a nickname, 'tank busters,' because they get startled and bust through the tank," he said. "But so far, my glass has been able to stand the pressure of him getting freaked out."
But in a bit of foreshadowing, when he bought the used tank that currently houses Paco, the owner warned him, "I'll sell you the tank on one condition: you don't get a pacu."
That previous tank owner watched her pacu grow so big that the tank couldn't sustain its life in such small surroundings, and it died.
His wife, Sabrina, who claims responsibility for their dog and two cats, said Paco's living space now is incomparable to conditions any human could endure.
"It's like putting us into a 4-by-4-foot bathroom and telling us, 'You live here now,'" she said.
Aside from the bouts of anxiety that can cause Paco's destruction, Nagy said the two share a bond. At times, he will reach into the tank and pet Paco gently.
That's why a few responses to the classified has him worried.
"We had a lady call and say she was interested in the fish, and I don't know why, but it seemed strange," Nagy said.
"She was really adamant about coming to pick the fish up, without us knowing where [Paco] would live." he added. "Maybe she had different intentions."
He thinks callers like that woman may have Paco in mind for Fish Fry Friday, which he will not allow. He said that of the dozens of callers responding to the advertisement, none of them was equipped to house Paco.
The ad stipulates that potential owners must have a 200-gallon tank or larger. Employees at aquatic supply stores around the Valley said that not only must a tank that size be ordered specially, but a setup including filters, lights, heaters and a stand would run upward of $3,000.
But until he gets a serious inquiry, he will continue looking for a home for Paco. He plans on placing an ad on Craigslist and has his heart set on possibly donating Paco to a zoo.
"A zoo aquarium would be the dream home for him," said Nagy, who would like the opportunity to occasionally visit Paco in its new environment.
After all, it was the Cleveland Metroparks Zoo where he first discovered the pacus. There, the aquarium held several large, majestic fish like Paco.
And because of his fascination with the underwater creatures, Nagy said Paco's owner "has to love fish."
Its adopted parents should also know something.
The name aside, Paco is probably a female.
XTo inquire about Paco, e-mail sirgizmo500@att.net.
sschroeder@vindy.com