Ohio eliminates attorney general lobbyist job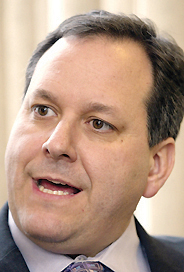 Photo
Former Ohio Attorney General Marc Dann
CLEVELAND (AP) — The Ohio Attorney General's office has eliminated a lobbying position in Washington that was unique among attorneys general nationally.
Ted Hart, a spokesman for Attorney General Nancy Hardin Rogers, says the move was strictly financial and not related to the scandal surrounding former Attorney General Marc Dann.
Dann was criticized for creating the job and appointing Craig Mehall, a lawyer with no experience in Washington or as a lobbyist.
The 41-year-old Mehall had acknowledged early mistakes including almost missing a deadline for an important grant application.
Dann says his office was able to bring in millions of dollars in law enforcement grants to Ohio as a result of the lobbying position.
Dann resigned last year amid a sexual harassment scandal.
More like this from vindy.com