Youngstown mayor targets finances, crime, neighborhoods as 2009 priorities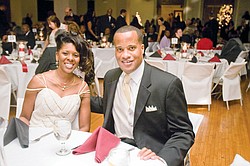 Photo
Mayor Jay Williams sits down with his wife, Sonja , during the Mayor's Community Celebration at Stambaugh Auditorium.
The mayor will seek re-election, but, this time, as a Democrat.
YOUNGSTOWN — Mayor Jay Williams said his priorities for 2009 will include keeping the city's budget balanced, putting into effect the city's landlord registration program and achieving another 28 percent or greater reduction in the city's homicide rate.
"We're going to again face some very tough economic challenges, but I believe that, if we work together as a City Hall, labor and management, that we can get through 2009, hopefully with no deficit and no layoffs," the mayor said.
"We want to continue our neighborhood development. We've seen demolition have a positive impact on our neighborhoods," the mayor said.
The mayor said he wants to use the city's multimillion dollar grant from the U.S. Department of Housing and Urban Development to strengthen neighborhoods through demolition and rehabilitation and to put into effect the landlord registration program.
The registration program, which has been on the books for six years, has so far been dormant, he said. The mayor said he'll keep his campaign promise to put that program into effect in his first term.
The mayor, who announced he will seek re-election in this year's Democratic primary, delivered his State of the City address Saturday at his annual community celebration at Stambaugh Auditorium, which was attended by 425 people.