Youngstown venue impresses out-of-town media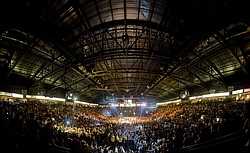 Photo
Pavlik/Rubio Fight Night at Chevy Centre, February 21, 2009
In more Pavlik coverage ...
'You don't see big-type venues like this' in cities like Youngstown, a boxing reporter said.
YOUNGSTOWN — The Chevrolet Centre could easily be the destination location for professional boxing between Cleveland and Pittsburgh, national boxing journalists say.
"It's a beautiful venue; it's fairly state-of-the-art," said Brady Crytzer, a reporter for Fightnews.com, one of the Internet's most visited boxing sites. "In an area like this you don't see big-type venues like this. It could be a boxing center."
Crytzer and Gary Sarti, a Fightnews.com photographer, said the Youngstown facility should be used a lot more for boxing cards.
"It's not a casino, it's not a fight club, it's not a minor-league baseball stadium," said Sarti, who's covered more than his fair share of fights at such facilities. "It's an arena that's the ideal size venue for guys to fight in. It's nice to have a venue like this here."
The center has had some boxing shows since it opened more than three years ago, including a Kelly Pavlik fight in 2006.
Pavlik's fight Saturday at the center defending his middleweight championship drew a sell-out crowd of 7,100.
Mike Greenhill, a photographer for Boxing Digest magazine, said he's "impressed" with the Chevrolet Centre.
"It's a good thing for the area and for boxing," he said. "It gives people in the area something to rally around."
Greenhill has covered numerous fights in Cleveland and often passes signs for Youngstown. This is his first visit to the city.
"I always wondered what was here," he said. "I'm pleasantly surprised. I thought I'd see a lot more 'for sale' signs. The downtown skyline is bigger than I expected."
When asked how much bigger, Greenhill paused, looked at the city from outside the center and said, "I expected it to be half the size."
Kristal Hart, who's hosted a sports show on Manhattan cable for the past seven years and is a Warren native, is visiting the center for the first time.
"It's great for the area to have," she said. "This fight will let more of the United States and the world know about the arena and the area."
Crytzer said Youngstown "has a very homely feel to it. You can tell people are attached to the city."
Journalists from national boxing Web sites and magazines attended the card headlined by Pavlik's title defense in his hometown of Youngstown against Marco Antonio Rubio.
Even a photographer from a boxing magazine in Japan was at the center to cover the fight. Unfortunately, he doesn't speak English.
skolnick@vindy.com