Pavlik's next fight could be in Cleveland in late June
Kelly Pavlik wins!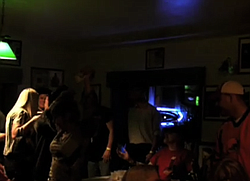 Video
Photographs by The Vindicator photographers Geoffrey Hauschild, William D. Lewis, Robert K. Yosay and Lisa-Ann Ishihara. Video by Katie Libecco and Sarah Poulton. Additional audio by Robert K. Yosay. Edited by Katie Libecco.
By Joe Scalzo
YOUNGSTOWN — When it comes to Kelly Pavlik's immediate future, Top Rank chairman Bob Arum is more interested in making the right fight than the best fight.
Following Pavlik's TKO of Marco Antonio Rubio on Saturday, Arum said he will pursue a title defense in Cleveland, possibly on June 20, against contenders Sergio Mora, Vernon Forrest or John Duddy.
A win could then set up a showdown with WBA middleweight champ Felix Sturm of Germany in the fall.
"Kelly has a lot of good opponents in the middleweight division," said Arum, Pavlik's promoter. "But Kelly should be able to dominate any middleweight he faces."
The "best" fight would probably be against IBF champion Arthur Abraham. But Abraham would either want to fight in Germany, or would ask for a lot of money to fight in America.
"The problem is, the public doesn't know who he [Abraham] is," said Arum. "He sounds like he's Bernie Madoff's accountant."
Pavlik has said repeatedly he'd like to unify the middleweight titles before moving up in weight class and Sturm — who will fight Koji Sato on April 25 — has made more reasonable demands, Arum said.
"That fight is doable by the end of the year on good financial terms," said Arum.
Read the story in Monday's Vindicator and on Vindy.com.