Kelly beats Rubio into submission
Kelly Pavlik wins!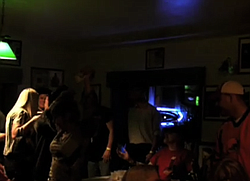 Video
Photographs by The Vindicator photographers Geoffrey Hauschild, William D. Lewis, Robert K. Yosay and Lisa-Ann Ishihara. Video by Katie Libecco and Sarah Poulton. Additional audio by Robert K. Yosay. Edited by Katie Libecco.
In more Pavlik coverage ...
By JOE SCALZO
VINDICATOR SPORTS STAFF
YOUNGSTOWN — It ended not with a flurry or a brutal knockout, but with a gutsy fighter slumped on his stool, flinging a water bottle across the ring, wanting to continue and not getting his chance.
His corner had seen enough.
The wise philosopher Clint Eastwood once said, "Tough ain't enough" and Kelly "The Ghost" Pavlik proved it on Saturday night, blistering gutsy Mexican Marco Antonio Rubio for nine rounds before the fight was called in front of a Chevrolet Centre-record crowd of 7,228.
Pavlik got redemption. Rubio earned respect. The fans got a show.
What more could you want?
"There's no place like home," said Pavlik, who successfully defended his WBC and WBO titles for the second time. "You can't get no better fans than here in Youngstown."
In the first fight after his first loss, Pavlik showed patience and persistence, repeatedly backing up Rubio and landing big left jabs and strong rights.
Over the last three rounds, Pavlik out-landed Rubio 59-28 and it seemed like the only thing keeping the challenger up was his heart.
It certainly wasn't his legs.
"We pushed him back with the jab," said Jack Loew, Pavlik's trainer. "We kept him going backwards. We saw in the tape that Rubio had trouble fighting backwards.
"That was our plan. Kelly executed it perfect."