Kelly Pavlik wins!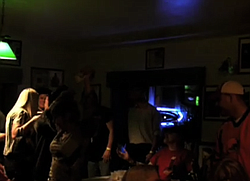 Video
Photographs by The Vindicator photographers Geoffrey Hauschild, William D. Lewis, Robert K. Yosay and Lisa-Ann Ishihara. Video by Katie Libecco and Sarah Poulton. Additional audio by Robert K. Yosay. Edited by Katie Libecco.
In more Pavlik coverage ...
By Joe Scalzo
Fans of Kelly Pavlik arrived early and were ready to celebrate a win
On Jan. 10, Angel Bye of Warren logged on to Ticketmaster's site, waiting for the clock to hit 10 a.m. so she could buy tickets for Kelly Pavlik's first hometown title fight.
The clock hit 10, she searched for the first pair of $100 tickets she could find and clicked. A minute into the transaction, she hit a snag.
"It froze up," Bye said. "You had two minutes to buy the tickets and after a minute, it froze up.
"I was in tears."
Considering Bye was recalling this story from the upper level of the Chevy Centre on Saturday night, you can probably guess how things turned out.
She tried it again, it worked and just after 7 p.m. on Saturday, she and her boyfriend, Craig Hull, were among the first to enter the arena.
"It was her birthday present," Hull said.
When's her birthday?
"Uh," he said. "February 5."
"There you go," Bye said, smiling. "Good job."
At 6:30 p.m. — 30 minutes before the Chevy Centre doors were set to open and an hour before the first fight was set to begin — several hundred boxing fans stood in the Chevy Centre box office lobby, peering inside like fish in an aquarium. Several hundred more waited in the cold outside. They opened the doors early — at 6:56 — and they poured in, seemingly all of them in Pavlik T-shirts.
By the time the first fight started, the arena was 25 percent full — at least 20 percent fuller than you usually see at this point for fights in Las Vegas or Atlantic City, where fans usually gamble early and arrive late.
There were probably 1,000 more fans buying T-shirts, food and — this being Youngstown — lots of alcohol.
Amber Byers of Boardman had actually stood outside the Chevy Centre for two hours in the snow when tickets went on sale last January, only to miss out on the $50 and $100 tickets.
"They sold out in 12 minutes," Byers said. "It was tough."
So, she and her father, Butch Fox, went to the Ticketmaster at Giant Eagle and bought single tickets about three rows apart.
"It's the best we could do," Fox said.
It's their first professional fight — they've followed Pavlik on HBO and on pay-per-view over the last couple years — there was no doubt about their prediction.
"Outcome Pavlik," Byers said, smiling.
Dave Kunder and Anthony Pantaleo of Boardman, Michael Wine of New Springfield and Guy Bloom of Bowinckle, Pa., came in holding American flags, Ohio flags and Youngstown State flags.
"We're gonna have a great time tonight," said Kunder. "Kelly's gonna do it.
"We all love him."
All four have been Pavlik fans for years but this is their first fight in person. Pavlik's following isn't quite as big in Bowinckle — about two hours away — but there are a few fans.
"There's about 20 of us," said Bloom. "We're big fans."
scalzo@vindy.com