Team Pavlik keeps eyes on the prize
Kelly Pavlik Workout

Video
WBC/WBO middleweight champion Kelly Pavlik meets with press and the public at a workout at Southside Boxing Center Wednesday. Pavlik and trainer Jack Loew talk about Saturday's fight at the Chevrolet Centre.
Team Pavlik Talks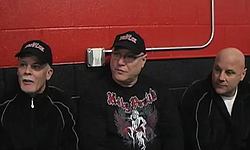 Video
Members of Team Pavlik (Mike Romeo, Michael Cox, John D'Altorio, Mike Pavlik Sr., Tank DiCiccio, John Loew and John Hutter) talk about Pavlik's upcoming fight at the Chevrolet Centre during his public workout at Southside Boxing.
In more Pavlik coverage ...
By Joe Scalzo
"I really think he's [Pavlik] focused. It's been a great camp. Any style that [Marco Antonio] Rubio brings to the table, Pavlik's ready for."
Tank DiCioccio
Cornerman
YOUNGSTOWN — Mike Pavlik Sr. is half-Sicilian and the members of Team Pavlik can often remind you a bit of a Sicilian family.
Most have been with Pavlik since the beginning of his career. Loyalty is prized. And you need to be able to give a joke, and take one.
For instance, John "Fat Back" Hutter, a trainer at the Southside Boxing Club, gets teased mercilessly about his weight. (Pavlik has also been known to deliver a shot below the belt to Hutter while working out on a punching bag.)
But when they're asked about Saturday's fight, the talk turns serious.
"I really think he's [Pavlik] focused," said cornerman Tank DiCioccio, who was also a cornerman for Ray "Boom Boom" Mancini. "It's been a great camp. Any style that [Marco Antonio] Rubio brings to the table, Pavlik's ready for.
"If Rubio wants to come and box, he's got an answer. If he wants to come forward, he's got an answer."
Team members are responsible for helping Pavlik get ready for fights, and for limiting the distractions in the days leading up to the bout. Hutter and John Loew— the son of Pavlik's trainer, Jack Loew — train the gym's amateur fighters during camp so Jack can focus on Pavlik. John D'Altorio, Pavlik's publicist, fields media calls and ticket requests. And Mike Pavlik Sr. makes sure his son is eating well, sleeping well, training well and staying out of trouble.
"I have been the turnkey for the past five weeks," quipped Mike Sr.
Pavlik hasn't fought in Youngstown since November 2006. He's fought six times since then, winning the middleweight title while becoming one of boxing's biggest names. Consequently, Saturday's fight is much different than his last one in the Valley.
"Being on the road, you're kind of isolated with the team," said Mike Cox. "Here, there's obviously a lot more going on.
"It's a lot more stressful, just people pulling you in different directions. It takes a little more effort to keep everything tightened up."
Added John Loew, "I think there's a lot of pressure on Kelly, being home and having to put up with everything. At the same time, he gets to put on history for Youngstown and he gets to put on a great show. He gets to pay back a bunch of fans for coming to see him out of town."
Mike Sr., who makes sure Pavlik is home at 7 p.m. every night, said his son has set the tone for the camp.
"I think we've fed off of Kelly," he said. "This camp to me has been very relaxing ... because of how relaxed he is and how he knows the task at hand and how confident he is that he's going in there and going to take care of business Saturday night."
Added DiCioccio, "Kelly keeps us loose. He keeps everybody loose. But he can pull the trigger and turn that switch on when he has to get nasty."
Pavlik is keenly aware of his fan following in the city and says he often feels pressure to live up to expectations. But he's dealt with that pressure for years and John Loew doesn't think Saturday will be any different.
"He's very strong-minded," he said. "There's one thing on his mind and that's putting on a great performance for the crowd and making sure he sticks to his game plan and putting pressure on Rubio that Rubio's never seen in his life."
Added Cox: "Pressure's not going to be an issue at all because he's been through the highest pressure he can. His focus level is the highest I've seen in my six years."
Most of Saturday's fans will be Valley residents, but D'Altorio said he knows of six fans from England attending Saturday's bout as well as fans from California, Montana, Texas, Florida and New Jersey.
"You hear from family members you haven't heard from in 20 years wanting tickets," said D'Altorio.
"I don't know if everyone comprehends just how big Saturday night is for the Valley," added Mike Sr. "The ones who can make it, the 7,000 [or] 7,100, I think they're in for a very entertaining night and a very happy night."
scalzo@vindy.com