International fight audience will hear 3 Valley singers
National anthem contest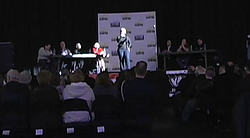 Video
Seven contestants competed at the Chevrolet Centre Wednesday to sing the national anthem at WBC/WBO middleweight champion Kelly Pavlik's title defense Saturday. 20-year-old Max Ryan Hanni was given third place and asked to sing at the official weigh-in Friday. 18-year-old Alyssa DiBernardi of Boardman was named runner-up and asked to sing "God Bless America" Saturday at the fight. 20-year-old Matt Wolfe of Lowellville was the first place winner and asked to sing the "Star Spangled Banner" Saturday at the fight.
More than 200 people watched the national anthem singing competition and the introduction of the four ring girls.
By KATIE SEMINARA
Vindicator Staff Writer
YOUNGSTOWN — Matt Wolfe was nervous about singing first, but he set the bar that couldn't be met.
Wolfe, 20, of Lowellville was one of seven contestants selected to compete for the chance to sing the national anthem at the Kelly Pavlik-Marco Antonio Rubio boxing match Saturday at the Chevrolet Centre.
During the battle of the voices, Wolfe was the No. 1 pick by the panel of seven judges from Team Pavlik and The Vindicator on Wednesday.
"It's crazy; this is wild," Wolfe said after winning. "This is probably the happiest I've been in a while."
Wolfe had plenty of support at the event, including his grandfather, Raymond Wolfe, a Navy World War II veteran.
"I told him I was singing it for him," Wolfe said.
"When he finished the song, I knew he had it," said Raymond — a little teary-eyed.
Although Wolfe's family was confident, he didn't think he had it in the bag, because of the stiff competition.
"I thought they were all great," Wolfe said of his fellow competitors.
The judges also thought all the contestants were talented and worthy of singing at the fight, so they threw in a twist while selecting the winner.
Picking just one singer was too difficult, so the judges decided to pick two other singers, one to sing the national anthem at Friday's weigh-in and the other to sing "God Bless America" on Saturday, said John D'Altorio, Pavlik's publicist, who was one of the judges.
"That way six weren't left disappointed; we didn't want anyone to leave disappointed," he said.
Max Ryan Hanni, 20, of Canfield was chosen to sing for the weigh-in, and Alyssa DiBernardi, 18, of Boardman was named to sing "God Bless America."
"The biggest part was keeping the fans involved," D'Altorio said.
Wolfe couldn't be more of a fan, as well as his parents, Karen and Ray Wolfe.
"This is just a huge honor," he said of being able to sing for Pavlik.
Even if Wolfe had not won, his family still would be at the fight cheering on Pavlik.
"We've been to every fight, since [Pavlik's] first fight here," said Karen Wolfe, who couldn't stop gushing about how proud she is of her son.
Singing in front of just more than 200 on Wednesday will be much different from singing in front of more than 7,000 on Saturday, but Wolfe said he's not terribly worried.
"I didn't really prepare a whole lot for this, so I'll probably just stick with that," he said.
After the singing competition, the winners of the Valley24.com ring girl competition were announced.
The four winners gave a little preview of what fight-goers should expect to see in between rounds.
"I'm not nervous yet, but I told my family if I trip they can put it on YouTube," said Jocelyn Pannunzio, 22, of Poland.
Being a longtime Pavlik supporter, Pannunzio said she thinks having Pavlik defend his title here "is one of the best things to happen to Youngstown."
The three other ring-girl winners are: Dawn Blakely, 25, of Youngstown; Laylah Figueroa, 30, of Mentor, originally from Canfield; and Syreena Brown, 22, of Campbell.
In more Pavlik coverage ...