Rubio confident of victory
Marco Antonio Rubio Workout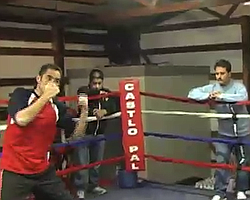 Video
WBO No. 1 contender Marco Antonio Rubio works out at Boardman's Burnside Boxing Club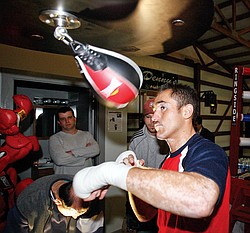 Photo
Marco Antonio Rubio at Burnside Boxing Center
By Joe Scalzo
The 28-year-old Mexican has won nine straight bouts at middleweight.
BOARDMAN — Marco Antonio Rubio arrived at the Burnside Boxing Club for his media workout at 11:48 a.m. on Tuesday — 12 minutes early in a sport where 15 minutes late would have been considered early.
He wore a Dallas Cowboys jacket and a quick smile and made no attempt to draw any attention to himself.
Rubio, 28, doesn't speak a word of English, but he patiently answered reporters' questions (translated, of course) and afterward, he lingered for several minutes to sign autographs and pose for pictures.
In short, Rubio is a mirror image of his opponent, Kelly Pavlik, both inside and outside the ring. Polite. Unassuming. Humble.
"I'm a person who thinks boxing is a sport," said Rubio, through his cornerman Ramon Rodriguez. "I don't think boxing is war."
Rubio, the WBC's No. 1 challenger, is a lifelong resident of Torreon, Mexico, a desert-like city about 400 miles southwest of San Antonio.
He started boxing when he was 17, going 22-4 as an amateur and winning the Mexican National junior amateur title. He went to nursing school for three years, training he used to take care of his mother during the last few years of his life.
"He has the capacity to take down his opponent and then take care of him afterward," quipped Rodriguez.
Rubio (43-4-1, 38 KOs) made his pro debut on March 17, 2000 — four months before Pavlik's first pro bout — and fought at light middleweight for the first 6 1/2 years.
After two straight losses in 2006 — losses he attributed to dehydration from trying to make weight — Rubio moved up to middleweight and has won nine straight fights.
He earned his shot at Pavlik with a 12-round split decision over Enrique Ornelas on the undercard of Pavlik's fight against Bernard Hopkins in October.
"I wasn't necessarily looking for a Pavlik fight," Rubio said. "I was looking for a championship fight."
Although he hasn't been in as many high-profile fights as Pavlik, Rubio is experienced and well-tested. Most of his fights have been in Mexico, but he's also fought in Texas, Nevada, Illinois and Pennsylvania, as well as Moscow, Russia, and Kiev, Ukraine.
Not surprisingly, Rubio had no problem fighting in Pavlik's hometown.
"I've done it before," he said of fighting in an opponent's hometown. "Most of the time the fans just like boxing.
"Actually, you're appreciated more if you put up a good fight against the hometown idol as opposed to just going in there and getting beat up."
As is typical in boxing, Rubio has predicted he will knock out Pavlik, a remark that hasn't generated much excitement in the Pavlik camp. In fact, Rubio has been an almost-overlooked element of this weekend's events.
In a recent conference call with Pavlik that lasted for almost an hour, Rubio was discussed for about two minutes.
And when Pavlik and his trainer, Jack Loew, went to New York in early January for a pre-fight press conference, Rubio was so friendly that Loew (who often enjoys the pre-fight verbal sparring) remembered thinking, "I can't rip this kid. He's too nice."
In the ring, Rubio likes to stand in front of his opponent and trade blows. He shows a little more upper-body movement than Pavlik — a trademark of Mexican boxers — but he's hittable, particularly when compared to Hopkins.
"I've been in losses and I always get up and get back to the top," Rubio said. "All I'll say is I'm well-prepared and I'm gonna go home the champion."
scalzo@vindy.com
SEE ALSO:Local finalists vie for honor to sing the anthem, Cotto looks to rebound from loss, Pavlik's parents keep things low key and Saturday's championship matchup will produce host of winners.
More like this from vindy.com