Newton Falls ties Campbell with victory
Campbell vs Newton Falls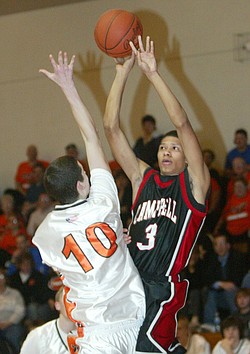 Gallery
Campbell vs Newton Falls Feb. 17, 2009
By Doug Chapin
NEWTON FALLS — The Newton Falls High boys basketball team persevered in the second half of Tuesday's hard-fought 65-59 victory over Campbell Memorial, leaving the teams tied atop the All-American Conference Blue Division.
Both schools are 8-1 in the division — Campbell won the first meeting 75-57 — with one game remaining on Friday. Newton Falls will play against Girard while Campbell faces Champion.
However, it is possible the season series could be decided on March 21 at the Canton Fieldhouse in the Division III regional championship game.
The Red Devils (13-5 overall) are seeded first in the Salem sectional-district and the Tigers (16-2) are the top seed in the sectional-district at Howland.
"That would be nice. That would mean we both had got that far," Campbell coach Brian Danilov said. "But we've got a lot of work to do. We've got a real tough sectional-district and we sure as heck aren't looking past anyone there."
Newton Falls coach Roy Sembach echoed Danilov's thoughts.
"I'm sure Coach Danilov would enjoy that as much as I would," Sembach said. "That would be really nice if both of us could get that far."
Falls used a 26-point, six-rebound, nine-of-12 shooting performance from 6-foot-11 senior Marcus Fowler, to key its victory.
The Tigers also got a solid performance from Brian Sole (16 points, eight rebounds, four assists) and the usual steady floor game from Todd Medallis (12 points, four assists).
Campbell got 13 points from Jerah'me Williams, 12 points from Lester Hughes, eight points and 11 rebounds from Germaine Somrajit and seven points each from Claxton LeBron, Nate Hodge and Doriann Jones.
Newton Falls led 18-14 after one quarter and opened a 32-22 edge at halftime.
Campbell closed to within 34-31, but the home team ran it back out to 41-31. The Tigers led 45-33 with 2:03 left in the third quarter, but the Devils closed to within 48-42 by the end of the period.
In the fourth quarter, Campbell was within two, 51-49, with 5:08 remaining, but Newton Falls put together a 9-0 run and led 60-49 with 1:59 left to play.
"Our second quarter was a poor quarter for us," Danilov said. "We shot like three for 16 and we dug a heck of a hole for ourselves. And then the foul shooting, 32 attempts for them and 15 for us.
"We got the lead cut to two a couple times [in the second half] and we missed putbacks or layups and they'd go down and score and make it a four-point turnaround."
The Tigers ended up with a big advantage at the free throw line, making 23 of 32 (72 percent) attempts, compared to Campbell's 10-for-15 (67 percent).
Falls shot 49 percent (20-for-41) from the field compared to the Devils' 33 percent (22-for-66).
Sembach said the Tigers have been getting to the free throw line all season.
"On the year we have made more foul shots than our opponents have attempted," Sembach said. "When you've got a big inside presence like Marcus and you've got some good drivers like Medallis and Sole, you can get to that foul line. That's an important part of our game, getting to the foul line.
"I liked the intensity of our defense a lot better this time," Sembach said. "Granted, they shot lights out the first time, which I thought was a combination of great shooting by them and lack of aggressiveness on our part. We got out on the shooters much better tonight."
"They are a really good team and I think we're a really good team," Sembach said. "If this were a seven-game series, I think it would be a seven-game war."