---
Wednesday, February 11, 2009
Kelly Pavlik's extreme workout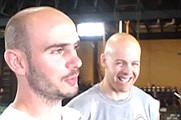 Video
Kelly Pavlik's extreme workout
Kelly Pavlik Fight Night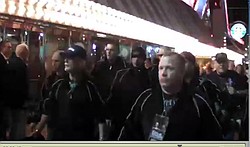 Video
By Joe Scalzo
The middleweight champion believes he might have overtrained for his last fight.
YOUNGSTOWN — Boxer Kelly Pavlik is known for enduring brutal workouts before fights, but it wasn't always that way.
"Early in my career, I'd run two miles and my long run would be three miles," said Pavlik, who will defend his WBC and WBO titles on Feb. 21 against Marco Antonio Rubio at the Chevrolet Centre. "I was training for four-to-six rounds."
Because his workload was low, he was able to go to Rocky's Fitness Center in Boardman a few times a week for extra workouts and still stay fresh.
Over the last few years, as his fights got longer and his opponents got better, Pavlik increased his training workload.
He ran more (four to five miles a day), sparred more (up to 12 rounds) and added workouts at the Ironman Warehouse, while still doing 200-repetition exercises at Rocky's.
The workload increased his strength and endurance — not to mention his capacity for pain — but there was trouble looming.
"I kept pushing my body to the limit," Pavlik said. "Those thousands of punches took their toll and I never gave my body a chance to rest."
But, because he was winning (impressively, in most cases) and because he had a good workout, nothing changed.
Then Pavlik lost to Bernard Hopkins in October and he and his trainer, Jack Loew, began to rethink their approach.
That loss could be attributed to several factors, from an elbow injury he suffered early in training camp to fighting at 170 pounds (10 pounds over the middleweight limit) to a bout with bronchitis in the days leading up to the fight.
But Pavlik's camp wondered whether overtraining also played a role. Former lightweight champion Ray "Boom Boom" Mancini watched the fight replay and wondered the same thing.
"He was in the fight," Mancini said of Pavlik. "He lost every round, but he was trying. He kept coming forward, he was just very lethargic.
"That was due to overtraining not undertraining. His stamina was still there."
So, with Pavlik (34-1, 30 KOs) nearing his 27th birthday and with 35 pro bouts under his belt, the plan this time was to cut back slightly, giving his body a chance to heal and rebuild itself, particularly after the most difficult workouts.
"We're still doing a lot of the same things," Pavlik said. "We're just spreading it out and giving my body some time to heal."
Pavlik sparred for 12 rounds on Tuesday — his longest sparring session before the bout — and has two final sessions this week. He'll still be training, but the focus will be on fine-tuning things and making sure he's on target to hit the 160-pound limit.
"We're kind of winding down," he said on Monday. "We have one or two more hard days and then the body starts recuperating."
Pavlik T-shirts
The new Pavlik fight T-shirts will be available today at several local outlets, including all four Buffalo Wild Wings locations (Austintown, Boardman, Niles and Youngstown).
The shirts, which cost $26, are black with red, gray and white accents. The shirt features the "Ghost" logo in front of a pair of wings.
It's a modern, aggressive design, in the same vein as the "Affliction" shirts endorsed by Pavlik. The phrase "Backyard Brawl" appears on the back.
The shirts will match his black fight trunks. The trunks also will have the Youngstown State University block-Y.
The shirts are also available at East Side Civics, Cornersburg Italian Specialties, Clemens Wine Cellar, Bedford Trails Golf Course, Shirt Wizard in Poland.
Lyell falls
Youngstown junior middleweight Billy Lyell, who is managed by Pat Nelson and used to train with Pavlik, lost an eight-round unanimous decision to Vanes Martirosyan on Saturday in Anaheim, Calif.
Lyell (18-7, 3 KOs) had won three of his last four bouts.