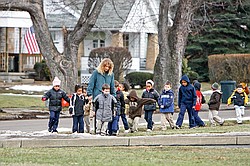 Photo
Kindergarten class at Youngstown Christian took a break and enjoyed the outdoors with their teacher Susie Hartman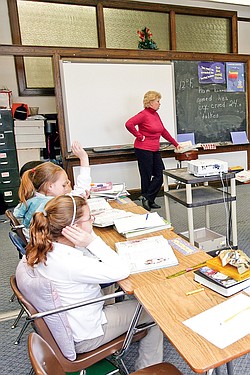 Photo
Third graders of Mary Mounce at Youngstown Christian School work on a reading program
By Harold Gwin
Private schools, parents sing the praises of EdChoice
Some 3,600 children in Mahoning and Columbiana counties are eligible to apply for state Educational Choice Scholarships that they can use to pay their tuition at private schools this fall.
That's the number enrolled at nine academically troubled public schools that are on the state's EdChoice (school voucher) list for 2009-10.
No Trumbull County schools are on the list this year. Washington Alternative School in Warren was on it last year, but the district has closed that school, moving some of its children back into regular education programs and others to a new middle school transitional program.
The EdChoice program was created by the state three years ago to provide children in under-performing public schools the opportunity to attend private schools willing to accept them.
The state pays the private school's tuition charge, or $4,500 for elementary school pupils (kindergarten through eighth grade) and $5,300 for high school students (grades nine through 12), whichever is lower.
The program has been a boon to some private schools, providing additional outside revenue.
Youngstown Christian School is a prime example.
Of its 430 children in kindergarten through 12th grade, 131 are EdChoice Scholarship recipients who would normally be attending Youngstown city schools.
"It's been very beneficial to us," said Michael Pecchia, Youngstown Christian president, noting that his school is receiving about $400,000 this year in EdChoice revenue, nearly one-fourth of the school's $1.7 million operating budget. That's less than the maximum scholarship funds could provide because Youngstown Christian's tuition is at $4,500 for high school students, $3,335 for those in grades seven and eight and $2,995 for those in K-6.
There are also discounts for families with more than one child in the school, he said.
Stephanie Comek-Cruz and her husband, Edward Cruz, of Youngstown, between them, have six children enrolled at Youngstown Christian, four of them EdChoice Scholarship recipients.
Comek-Cruz grew up in Youngstown and said that, although her children did well in a city elementary school, her concern focused on when they advance to high school level and reports of behavior issues she's heard of there.
She likes the Christian-based atmosphere at Youngstown Christian and the one-on-one attention available to children there.
"It's worked out wonderful," she said.
Her son, Kenneth John Vogt, is in seventh grade, daughter Laura Vogt is in fifth and twins Sadie and Chasie Vogt are in second grade, she said.
EdChoice is "just a blessing," she said, adding, "I couldn't afford it otherwise."
There are up to 14,000 of the scholarships available annually across the state. Only 3,000 were granted in the program's first year, but about 10,000 are in use this school year.
Once a child receives a voucher, they can continue to renew it every year up through graduation from high school, provided that certain criteria are met.
Those now attending a public school in their resident district that has been rated by the state in Academic Emergency or Academic Watch for two of the past three years are eligible to apply. Public school pupils attending a school in their resident district that will be assigned to an emergency/watch status school in the upcoming school year are also eligible to apply. Those currently attending a charter/community school whose home school is an eligible school on the state list can apply as well.
Children now attending private school and home-schooled students are not eligible.
Registration for 2009-10 is open through April 17.
Cynthia and John Washington had been wanting to get their two children, John and Jazlyn, into a private school and were each working two jobs to get the money to pay tuition costs, Cynthia said. She said she attended private school growing up in New York City and wanted the same educational experience for her children.
They both lost their jobs in the recent economic crunch and weren't aware of the EdChoice program until Youngstown Christian informed them of its existence, she said.
Both children were granted the scholarships, and John is now a sophomore at Youngstown Christian while Jazlyn is an eighth-grader at the school.
Hope Kurdyla of Youngstown said her daughter, Cristen Manion, has been an EdChoice Scholarship recipient for three years. She's a junior now at Youngstown Christian and is getting a "wonderful education and learning about God," Kurdyla said.
Her daughter did well at the Youngstown middle school she was attending and was in the gifted program, but Kurdyla said she feared her daughter's education would lag in the city high school system.
She and her husband, Darren, have two younger girls in a Youngstown elementary school and are considering applying for EdChoice assistance to send them to Youngstown Christian when they reach the seventh grade, she said.
The scholarship program made Youngstown Christian available to her two sons, Jacob, a fifth-grader, and Marcus, a third-grader, said Denise Roman of Youngstown.
She said she likes the school's Christian background and the positive influence of the other children who attend there.
Pecchia said part of the Youngstown Christian screening process requires that a pupil's family be active in its church.
The private schools in the program can select which pupils they want to admit as the children must meet that school's criteria. Those applying for the scholarships must first be accepted by a private school enrolled in the program, and that school aids in the application process.
Kim and Antwon Snyder of Youngstown have four children enrolled at YCS through EdChoice Scholarships.
"It's going very well," she said, explaining that she sees Youngstown Christian as a "better environment" for her children with its "Christian base" and "more advanced" education.
Her son, Deon Gilbert, is in the ninth grade, daughter Destinee Snyder is in sixth and twins Imane and India Snyder are in the second grade.
"They like everything about the school," Snyder said.
gwin@vindy.com