Science rules at fair for pupils
All-City Science Fair at Eash High School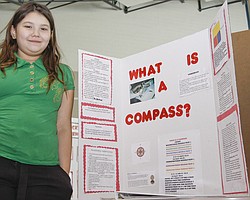 Gallery
By Sean Barron
Taste tests, compasses, eggs and vinegar were among the order of the day.
YOUNGSTOWN — Do you have at least a spark of interest in the relationship between air temperature and static electricity? (The warmer the temperature, the more static electricity.)
Have you ever wondered how the acid in vinegar affects the level of calcium in a typical chicken bone? (It decreases it.)
Perhaps you were curious about how the amount of citrus acid in a piece of fruit impacts a battery's voltage output. (The more acid, the more voltage.)
If so, you would have found answers to these and many other conundrums at Saturday's annual Youngstown city schools' All-City Science Fair at East High School.
On display at the competition were a variety of science exhibits from pupils in grades five through 12. They included everything from how the noon sun angle affects temperatures, to which pain reliever is best for a headache.
The relationship between vinegar and an eggshell intrigued Toshi Hudson, who titled her project "The Squishiest of All."
"I read about it and looked on the computer, and it kind of caught my attention," explained Toshi, an eighth-grader at Hayes Middle School.
For her project, Toshi placed an egg in a cup and submerged it in vinegar, which made the shell softer. She then washed the shell, causing it to disintegrate and leave behind its membrane, as well as the yolk.
Toshi said she learned that the acid in vinegar uses oxygen to remove calcium from the eggshell, giving it a "squishy" feeling.
Kaitlyn Geisel did her best to exercise good taste with her experiment, "Taste Tells What the Nose Knows," which explored whether the absence of smell impacts the ability to taste food.
Kaitlyn, a fifth-grade pupil at William H. McGuffey Elementary School, said she began by having participants taste three types of fruit juice before blindfolding them, and having the people rinse their mouths, hold their noses and try the beverages again.
About 82 percent of those who participated were unable to tell which juice they had the second time, noted Kaitlyn, who began her work in October with guidance from her grandparents and sister, Kyla.
Staying on course was the direction of Tabatha West's experiment, which provided an inside look on how compasses work.
For her part, Tabitha, also a McGuffey fifth-grader, constructed a needle using a magnet that she taped to a piece of cork floating in a pan of water.
Afterward, she marked compass points on paper and conducted several trial experiments, leading her to conclude that a compass points in the direction of the earth's magnetic poles.
Judges gave pupils' experiments up to 40 points (50 for teams) based on their overall knowledge, use of the scientific method, clarity of expression and creativity, noted Cathy Constance, the district's supervisor of science.
One of the main purposes of the science fair was to instill in the youngsters a deeper appreciation for problem-solving abilities, and having them "inquire about why things happen," Constance noted.
Even if a pupil's hypothesis is proved wrong, she continued, that experience is valuable because it can lead to a desire to conduct additional experimentation.
"The scientific method is problem solving through all aspects of life," Constance added.
First-place finishers will be able to compete at the Lake-to-River science fair set for March 28 at Youngstown State University. That event will feature exhibits from pupils in Mahoning, Trumbull, Columbiana and Ashtabula counties.