Tressel, Pavlik highlight decade
Top 10 Local Sports Stories of the Decade
Jim Tressel
Kelly Pavlik
Maurice Clarrett
Mooney, Ursuline football
Chevrolet/Covelli Centre
YSU Athletics
Scrappers
Active NFL Players from Valley
Colelge Coaches from Valley
Jim Tressel
Ursuline Vs. Coldwater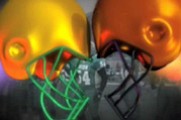 Video
Mooney Vs. DeSales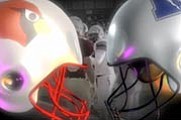 Video
Kelly Pavlik Fight Night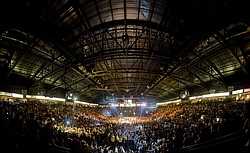 Gallery
Photographs by The Vindicator photographers Geoffrey Hauschild, William D. Lewis, Robert K. Yosay and Lisa-Ann Ishihara.
Thunder vs. Iron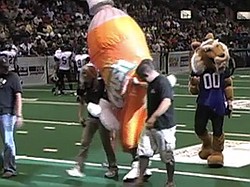 Video
The Mahoning Valley Thunder finishes their 2009 season at the Covelli Center on Saturday, July 25, 2009 with a loss to the Milwaukee Iron.
THE FORMER YSU COACH AND THE SOUTH SIDE BOXER REACHED THE HEIGHTS OF THEIR PROFESSIONS, WHILE RB MAURICE CLARETT HIT THE DEPTHS.
Vindicator Staff Report
On the night of Jan. 18, 2001, Ohio State's new football coach took the floor at a basketball game at the Schottenstein Center and made a prediction.
"I can assure you that you will be proud of your young people in the classroom, in the community, and most especially in 310 days in Ann Arbor, Michigan, on the football field," said Jim Tressel.
The relatively unknown coach made good on his prediction, upsetting the Wolverines that November, then winning the school's first national title since 1968 with a double-overtime classic against Miami in the Fiesta Bowl on Jan. 3, 2003.
It was a surprising start to everyone except Mahoning Valley fans, who had seen Tressel work his magic at Youngstown State en route to four national championships from 1991-97.
Although he hasn't matched the heights he reached against the Hurricanes, Tressel has turned the Buckeyes into the Big Ten's best program, winning five straight conference championships including an outright crown this year to earn the school's first Rose Bowl berth in more than a decade.
He's also dominated OSU's biggest rival, going 8-1 against Michigan with six straight victories.
Not everything has been rosy, of course, as Tressel's big-game reputation was tarnished with championship-game losses to Florida (2007) and LSU (2008). He also failed to reach talented but troubled running back Maurice Clarett, who fell from grace after leading the Buckeyes to the national title.
But the positives have outweighed the negatives and his success has reflected well on his current school — and his former one.
KELLY PAVLIK RISES TO TOP OF MIDDLEWEIGHT RANKS
After failing to make the U.S. team at the 2000 Olympic Trials, South Side native Kelly Pavlik turned pro and began his unlikely rise to boxing's royalty.
Pavlik struggled with hand injuries (which often sidelined him early in his career), perception (where his white skin prompted many to overlook him) and a lack of opportunity (paying his dues against dangerous fighters while less-talented ones got title shots) before breaking through in 2007. That year, he won three memorable fights against Jose Luis Zertuche, Edison Miranda and Jermain Taylor, the last for the WBC and WBO titles.
He's successfully defended those titles three times.
MAURICE CLARETT REACHES HIGHEST HEIGHTS, LOWEST LOWS
After winning Mr. Football and Parade Offensive Player of the Year in 2001, Clarett, a Youngstown native and Warren Harding graduate, enrolled early at Ohio State and was a sensation from the start, breaking numerous freshman records en route to the national title. But academic struggles, injuries and poor judgment ruined his football career. After unsuccessfully suing the NFL for early entrance to the draft in 2004, Clarett was selected by the Denver Broncos in 2005 and cut before training camp ended.
He's serving a 71'Ñ2-year prison sentence amid charges of robbery, carrying a concealed weapon and resisting arrest.
MOONEY & URSULINE BOTH WIN 3 STATE FOOTBALL TITLES
Mooney advanced to four straight Division IV finals from 2004-2007, winning titles in 2004 and 2006 before adding a Div. III crown this fall. Ursuline won its first state title in 2000 in Div. IV, then added Div. V crowns the past two years.
DOWNTOWN YOUNGSTOWN: SPORTS CENTRE OF VALLEY
They built it and the sports teams came. And left.
The Chevrolet/Covelli Centre has seen its share of change since opening in 2005, with the Youngstown SteelHounds hockey team and the Mahoning Valley Thunder arena football team each lasting three seasons before folding. The arena still houses the Youngstown Phantoms hockey team and several high school basketball games throughout the winter.
YOUNGSTOWN STATE ATHLETICS STRUGGLES
After four Division I-AA football titles in the 1990s, YSU's athletics struggled for much of the decade, with the football team advancing to the postseason just once, and the men's and women's basketball teams failing to win a Horizon League title.
There have been a few highlights in other team sports — most notably the baseball team (2004) and softball team (2006) winning Horizon League tournament titles — but the biggest positives have come from the track and cross country teams.
For many Penguin fans, that's not enough.
SCRAPPERS ADVANCE TO 3 NYPL CHAMPIONSHIP SERIES
Mahoning Valley's Class-A baseball team, however, did just fine this decade, winning the NYPL title in 2004. It also lost in the championship series in 2000 and 2009 while consistently drawing good crowds to Eastwood Field.
VALLEY PLAYERS INVADE THE NATIONAL FOOTBALL LEAGUE
The Valley's strong football tradition translated well to the NFL, with more than a dozen area natives making their way onto NFL rosters. Hubbard High graduate Anthony Smith even won a Super Bowl title in 2009 as a backup defensive back for the Pittsburgh Steelers.
NONFOOTBALL PREP TEAMS GET THEIR SHARE OF TITLES
But it's not just football. The Valley did well in other sports, too.
West Branch (Div. II) and Ursuline (Div. IV) both won girls basketball titles on March 20, 2004 to highlight a decade of champions for the Valley.
Ursuline (Div. III in 2000) and Canfield (Div. II in 2007) both won state baseball titles, while Mooney boys (Div. II in 2002) won a soccer title, Canfield (Div. II in 2008) won a softball crown, Poland boys (Div. II in 2000) won a track title and Warren JFK boys (Div. III in 2000-01) and Poland girls (Div. II in 2008) won golf titles.
But it was cross country where Valley teams fared the best, with Girard boys (Div. III in 2000), McDonald boys (Div. III in 2001 and 2004), Maplewood boys (Div. III in 2002-03 and 2005), Salem boys (Div. II in 2004-05) and Salem girls (Div. II in 2005-06) all capturing championships.
YOUNGSTOWN IMPACTS COLLEGE COACHING RANKS
Mooney High graduate Bob Stoops got the decade off to a good start by winning the 2000 BCS national championship with Oklahoma. Two years later, Tressel led OSU to the national title.
Two other Mooney graduates, Stoops' brother Mike at Arizona and Bo Pelini at Nebraska, earned major head coaching jobs, while Ursuline High graduate Eric Wolford was recently hired to replace Jon Heacock at YSU.
Dozens of other coaches with area ties dot the college ranks.