In Focus: Boys and Girls Club of Youngstown
Boys and Girls Club of Youngstown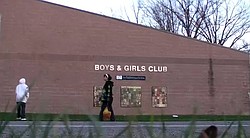 Video
The Boys and Girls Club of Youngstown is a positive place for kids.
The Boys and Girls Club of Youngstown has been around the Mahoning Valley for 40 years and bills itself as "the positive place for kids."
Generations of young people have passed through its doors and experienced activities such as sports, homework help, a meal and a place to gather and have fun.
On a recent afternoon, a pair of 9-year-old boys played air hockey at the club while another group played cards. A basketball game was under way in the gym as a group of youths typed away in the club's computer center.
Melanie Costello, the club's director of educational services, said building relationships, teaching values and learning acceptable behavior are skills members learn.
She adds the club's after-school hours and programs help keep youths out of trouble during what she describes as the crucial time window between 3 and 8 p.m., when youths are prone to get into trouble.
Costello said most of the members come from single-parent homes or families where both parents work. "It's important to have a place for kids to go while parents aren't home and there's no adult supervision," Costello said.
When asked why they frequent the club, most members say it is a place to meet friends and have fun.
Troy Blackmon, 15, who was named 2009 boys youth of the year at the club, said, "I come to the club because my friends are here. We play basketball and football, and I get to see most of my friends that I see in school."
Club member Bre'Asia Skinner, 12, a soft-spoken girl who often is seen helping out at the front desk, says the staff cares about her and she likes the variety of activities offered.
Alexander Spencer, 14, has been coming to the club since he was 6. When he first arrived, Alexander, an East High School student, said he didn't know anyone. Now he said he knows everybody at the club.
Jaylen Patterson, 15, said he often comes to the club when he doesn't have anything to do, adding, "All my friends hang here."
Leland Love, 8, says he has fun at the club and gets help with his homework. Students from Youngstown State University, Boys and Girls Club staff and community mentors offer tutoring and a homework-help sessions every weekday afternoon.
Morris "Spider" Kennedy, club athletics director, teaches a karate class at the club and can often be seen playing cards with young members.
He says providing a safe place and helping kids reach their goals are among the positive things the club offers. "We try to give of ourselves to the kids to help them do the things they need to do," Kennedy said.
The Boys and Girls Club of Youngstown is a United Way Agency and also receives funding through grants and donations. Located at 2105 Oak Hill Ave. on the city's South Side, the club has about 90 members ranging from age 6 to 18. A membership costs $7 a year.