PAVLIK FIGHT: ROUND 5 IT'S OVER!!!
Pavlik vs. Espino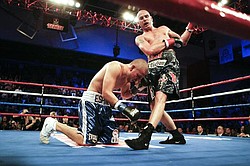 Gallery
Round five begins with heavy hands for Espino, who is clubbing at Pavlik.
Pavlik seems determined to land the knock-out punch and claim his 36th victory and 32nd knockout. Espino seems to be fading.
Espino is knocked to both knees after a vicious blow by Pavlik.
Team Espino has had enough and throws in the towel.
Pavlik wins after 1:44 in the fifth round with a technical knockout.