The basics on boxing's belts
Pavlik vs. Espino press conference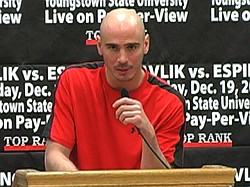 Video
By Joe Scalzo
YOUNGSTOWN — Over the past six months, the WBC and the WBO have sent a very simple message to Kelly Pavlik about his belts: Use them or lose them.
It was an easy choice for Pavlik, who decided it was worse to lose the belts outside the ring than inside. That's why, after a 10-month battle with a left hand injury, he was willing to take Saturday's fight with Miguel Espino despite being less than his best.
"Those belts are your financial security," Pavlik said. "If they take those away, you're fighting for way less money."
Fair enough. But there are still a lot of question surrounding Pavlik's status as title holder, starting with this one:
Q. When do the WBC and WBO make the decision to strip a champion of his belts?
A. "Whenever they get up on the wrong side of the bed," said Top Rank Boxing chairman Bob Arum, a well-known critic of the sanctioning bodies.
The biggest factor, obviously, is time between defenses. There's no set time limit, but after about six months, the organizations start getting antsy — especially if you haven't fought at all.
Pavlik won his two belts against Jermain Taylor in September of 2007 but didn't make his first defense until June of 2008 against Gary Lockett, then the WBO's No. 1-ranked contender.
It wasn't a huge deal because it was probably the earliest Pavlik could have defended his title. Taylor activated a rematch clause in his contract and opted to fight at the 166-pound "catch weight" (six above the middleweight limit), so Pavlik had to fight Taylor in February in 2008.
After beating Lockett, Pavlik fought Bernard Hopkins at 170 pounds before making his second title defense in February against the WBC's No. 1 contender, Marco Antonio Rubio.
In both cases, Pavlik's handlers got pressure from the WBC and WBO to make mandatory defenses when they would have rather pursued bigger fights.
Q. So, do they actually strip titles or is it mostly just bluster?
A. "Oh they have, they do and believe me, they will," said Pavlik's co-manager, Cameron Dunkin. "We say it's the champion's belt. It's not. It moves from one person to the next. It's their belt."
Vernon Forrest, who had been mentioned as a possible Pavlik opponent in recent years before passing away in July, was stripped of his WBC junior middleweight title last May when a rib injury kept him from fighting. The WBC then elevated interim champion Sergio Martinez to full champion.
Martinez, incidentally, was Pavlik's injury replacement when he had to cancel his Dec. 5 bout against Paul Williams.
So, stripping a title isn't uncommon. It happens a few times a year. Some fighters, such as Manny Pacquiao, will voluntarily relinquish a belt (like he did with his WBC lightweight title in February) if they have no intention of defending it. Pacquiao has won titles in seven different weight classes.
In July, Arthur Abraham vacated his IBF middleweight belt to move up to super middleweight, which was then won by Sebastian Sylvester in September when he beat Giovanni Lorenzo by split decision. The WBC, WBO, WBA and the IBF are the four major sanctioning bodies.
Q. What's an interim champion?
A. If a champion can't defend his title because, say, he's injured or has legal problems, the sanctioning bodies can have two top contenders fight for the interim title. This actually happened with Pavlik's WBC title in July, when Sebastian Zbik earned a unanimous decision over Domenico Spada for the interim WBC title.
Technically, Pavlik should have had to next fight Zbik instead of Espino, but because Pavlik's handlers had just five weeks to arrange Saturday's fight, Espino got the fight because he was available.
Q. Why are the WBC and WBO so anxious to see the titles defended?
A. A couple reasons. The biggest is money. These organizations make their money off sanctioning fees, with fighters paying 3 percent of the purse to each sanctioning body for title fights.
"With a guy like Kelly Pavlik who makes millions of dollars, that's a lot of money," said Dunkin.
The other major reason is it's good for the sport. Before Pavlik was champion, he was one of hundreds of fighters hoping to move up the rankings and get a title shot. If a champion isn't defending the belt — for whatever reason — it's frustrating for up-and-coming fighters and their handlers.
"I'm not happy when I see a guy not fighting for 10 months and keeping the belt," said Dunkin, who manages several other fighters. "So I do the same thing with my other fighters, saying, 'Let us fight for the interim title and we'll fight him [the champion] when he gets well.'
"They're [the sanctioning bodies] getting a lot of pressure, too. It's not like the WBC and WBO are bad people. They got people that want a belt too and they're waiting for their shot. They're trying to keep everybody happy."
Q. So if a fighter gets stripped, what then?
A. Well, some in boxing don't even pay attention to the sanctioning bodies, instead deferring to The Ring, which names one champion in each weight class.
In the middleweight division, for instance, Pavlik is the champion and WBA champion Felix Sturm is ranked second, followed by Williams. Espino isn't even in the top 10. Under the Ring policy, you lose your belt by losing in the ring, jumping weight classes or retiring.
Usually, if you get stripped, the sanctioning body tries to arrange a bout with the former champion and the new champion, provided the former champion wants the bout.
Q. So, if Pavlik had been forced to fight Sugar Ray Leonard in his prime instead of Espino, would he have taken the belts or just let them strip him?
A. Arum says no.
"Of course not," he said. "But Espino was rated No. 3, so he passed muster."
Pavlik, not surprisingly, would have taken the fight.
"Those belts are too important to me," he said. "I wasn't going to let them strip me."
scalzo@vindy.com
PAVLIK NEWS AND NOTES
Strickland sighting: Ohio governor Ted Strickland will officiate today's weigh-in for Kelly Pavlik and Miguel Espino at YSU's Beeghly Center. The weigh-in begins at 1 p.m. and is open to the public. Strickland, a Democrat formerly of Lisbon, will not attend Saturday's bout.
Inside Boxing: Legendary boxing trainer Freddie Roach, former champion Roy Jones Jr. and Top Rank Boxing chairman Bob Arum will be among the guests on "Inside Boxing" from 6:30 p.m. to 9 today on ESPN 1240-AM. The Sports Hangout, which begins at 4 p.m., will also be devoted to boxing. They will broadcast live from the Holiday Inn in Boardman.
T-shirts: Pavlik fight T-shirts will be on sale at today's weigh-in as well as the Cornersburg Italian Specialties, Clemens Wine Cellar on Meridian Road, Jensen Locksmith on Belmont Avenue, Jimmy's Italian Food Specialties on Belmont Avenue, Bedford Trails Golf Course, Tudor Physical Therapy, Groover Roofing & Siding in Girard, Patrone Brothers Landscaping & Garden Center in Girard, East Side Civics and The Shirt Wizard.
Pay-per-view: Like Pavlik's fight in February, Saturday's bout will be televised on Top Rank pay-per-view from two sites. The difference this time is, it'll be from two different countries, too. The show starts with a fight in in Youngstown, then goes to Mexico for two bouts before returning to Youngstown for the finale. February's show featured fights from New York's Madison Square Garden and the Covellie Centre in Youngstown. Saturday's telecast costs $39.95.
Joe Scalzo
FIGHT VENUES
Saturday's match between Kelly "The Ghost" Pavlik and Miguel "The Cobra" Espino can be seen at these venues:
Barry Dyngle's Pub Address: 1601 South Raccoon Road, Austintown Phone: (330) 259-4788 Cover: $10 with buffet included
Buffalo Wild Wings (Austintown) Address: 6000 Mahoning Ave., Austintown Phone: (330) 779-0201 Cover: $10 with buffet included
Buffalo Wild Wings (Boardman) Address: 7401 Market St., Boardman Phone: (330) 726-1313 Cover: None
Buffalo Wild Wings (Niles) Address: 950 Great East Plaza Phone: (330) 505-2999 Cover: None
Buffalo Wild Wings (Youngstown) Address: 50 Federal Plaza Phone: (330) 744-2999 Cover: None
Cleats Club Seat Grill Address: 3701 Elm Road, Warren Phone: (330) 372-9647 Cover: None
Dona Vito's Italian Grille Address: 139 Bridge St., Struthers Phone: (330) 755-3456 Cover: NA
Big Family Sports Bar/Grill
Address: 5555 Youngstown Warren Road, Niles
Phone: (330) 544-8700
Cover: None
Jeremiah Bull Frogs Address: 1315 Boardman-Canfield Road, Boardman
Phone: (330) 965-0800
Cover: None
Jillian's
Address: 7401 Market St., Boardman
Phone: (330) 629-8556
Cover: None
O'Donald's Irish Pub & Grill
Address: 6000 Mahoning Ave., Austintown Phone: (330) 755-3456 Cover: None
Quaker Steak & Lube
Address: 5800 Interstate Blvd., Austintown Phone: (330) 349-9464 Cover: None
Youngstown Sports Grille
Address: 7463 South Ave., Boardman Phone: (330) 758-7043 Cover: None