Espino kills Pavlik with kindness
In more Pavlik coverage ...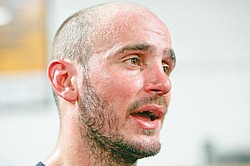 Photo
GETTING READY: Boxer Kelly Pavlik takes a break during a workout this week. The Youngstown fighter is preparing to box Miguel Espino on Dec. 19 at Youngstown State University's Beeghly Center.
Pavlik's Public Workout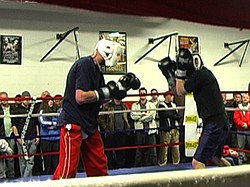 Video
Kelly Pavlik works out at South Side Boxing in Youngstown in preparation for his Dec. 19 fight.
By Joe Scalzo
Some of Kelly Pavlik's past opponents have opted to disrespect him before their fight, saying he's slow, one-dimensional or overrated.
Miguel Espino has taken the opposite approach.
"I've been a fan of Kelly since back in the day, since his amateur days," said Espino, who joined Pavlik on a nationwide teleconference Thursday to promote their fight Dec. 19 at YSU's Beeghly Center "To be fighting him, I'm humbled and gracious."
But wait. There's more.
When asked if he'd faced anyone like Pavlik in his career, he said, "No. I haven't fought anyone that tall and no one that hits quite as hard. I'm sure I will on the 19th."
Or how about the fact that Espino's resume doesn't seem nearly as strong as Pavlik's did when he got his first title shot?
"I haven't fought the killers he fought," said Espino (20-2-1, 9 KOs), who has won his last 11 bouts. "He earned his way. I earned it in a different way, although I didn't have it as tough as he did."
In his first two nationwide interviews, Espino — the WBC's No. 3 contender — has opted to kill him with kindness, not criticism.
Maybe it's his nature. Or maybe he's just in a darn fine mood after fighting in relative obscurity the past five years.
Whatever it is, Espino has sometimes come across more as Pavlik's little brother than as a fearsome threat to his crown.
"Do I think I have a shot to win? Absolutely," Espino said. "Do I think I'm going to win? Absolutely.
"I'm not just going there to get the biggest payday of my life and say I fought the middleweight champ tough."
Pavlik (35-1, 31 KOs) has repeatedly said he's not overlooking Espino, but he also knows a simple victory won't be enough. He needs to win decisively — preferably by knockout — if he's going to silence his growing list of critics.
Especially since Pavlik has the home-field — and home-weather — advantage.
"I know they'll be booing me [in Youngstown]," said Espino, a Los Angeles native. "There will be a handful of Mexicans cheering for me, and I'm sure I'll see them scattered about.
"I'll miss the weather [in L.A.], but it is what it is."
"Hey, we still have sun here," Pavlik said.
"Yeah but it's 20 degrees," Espino said. "Here, it's like 75."
By all appearances, Pavlik is taking Espino seriously — more seriously than the boxing world, which is already looking ahead to a Pavlik-Paul Williams showdown in 2010. Those two were scheduled to fight this fall — first in October, then on Dec. 5 — but Pavlik's hand injury postponed both bouts.
Pavlik would have preferred another month or two of healing and said he only took the Espino bout because the WBC and WBO were threatening to strip him of his belts. Still, he's faced a lot of criticism, both from the Williams camp and on the Internet, for taking a fight just two weeks after canceling the Dec. 5 bout.
"I can understand that," Pavlik said. "The reason it don't bother me is those people know nothing about boxing. They don't know how the sport works. They're derelicts.
"I was told I had to defend my title. I'm not going to get stripped of my titles. As far as those saying that, 'Oh, he took the fight two weeks later,' they don't understand the story. But let them talk. I've got my own things to worry about on the 19th."
Pavlik hasn't fought since beating Marco Antonio Rubio in February at the then-Chevrolet Centre. Has the layoff made him more hungry?
"Oh, definitely," he said. "I'm hungrier. I miss it. Boxing is something I've been doing since I was 8 years old. I've been fighting [professionally] for close to a decade.
"To take as much time off as I have, I'm excited and anxious."
One thing he's not is nervous. After fighting guys like Jermain Taylor and Bernard Hopkins — and after dealing with the hoopla surrounding his first hometown title-defense 10 months ago — this fight is no comparison.
"There's a lot of excitement, the adrenaline is pumping," he said. "But as far pressure, there's really no pressure."
Well, there is the pressure to perform.
He knows a lackluster victory won't do.
"No matter if people talk or not, especially after the layoff, it's very important to look dominant," he said. "If there's critics now, I know there will be a lot more [if he doesn't look good].
"The main thing is to go out there and keep winning. That's how you silence the critics."
scalzo@vindy.com
---
Showdown ahead? Although he said he's not looking ahead, Kelly Pavlik has been asked more questions about Paul Williams than Miguel Espino. Pavlik said he'd like to fight Williams eventually, but doesn't think the Williams camp will take the bout. "I was supposed to fight Paul Williams [in 2008] and he never signed for the fight," said Pavlik, who was twice forced to postpone fights against Williams this fall due to injury. "I ended up jumping two weight-classes to fight probably the best fighter of all time [Bernard Hopkins] because he was the only big name out there. Then I signed a contract to fight Paul Williams [this fall] almost a month before he signed the contract." Williams was supposed to fight Pavlik in Atlantic City's Boardwalk Hall on Dec. 5. Williams' fight with Sergio Martinez that night was instead moved to the arena ballroom. "The kid went from fighting for $1.5 million against me at Boardwalk Hall to fighting in a ballroom for $1 million less," Pavlik said. "It goes to show you that Paul Williams needs me after this fight. I don't need Paul Williams."
Not impressed: Pavlik watched Williams' unanimous decision win over Martinez and was more impressed with the fight than Williams. "I had it for Martinez by two to three rounds," Pavlik said. "Other than that, it was a great fight."
Back to normal: Pavlik had been sparring with 18-ounce gloves for the first weeks of training camp, but said Thursday he's back to the regular-sized gloves. He said Thursday his injured left hand is now "100 percent."
Ready to rumble? Legendary ring announce Michael Buffer of "Let's get ready to rumble" fame will announce the Pavlik-Miguel Espino bout.
Just kidding: Pavlik is known for his unconventional training methods, including swinging a sledgehammer, tossing tires or pulling cars. When asked if he's still doing that, Pavlik said, "We're climbing mountains now. Backward."
Tickets: Tickets for next week's bout cost $58, $108, $158 and $258. They may be purchased at Tickets.com or at the Beeghly Center box office.
Joe Scalzo