Students vie for trip to Disney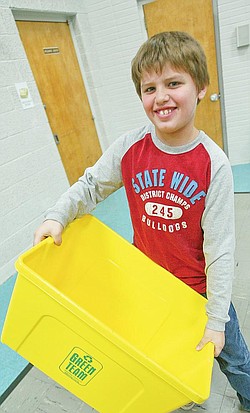 Photo
RECYCLE CHALLENGE: Poland North Elementary School fourth-grader Tyler Campbell holds a recycling bin during a program about recycling at his school. The school is participating in a contest to win a trip to Disneyland.
By Rick Rouan
About 25 people listened as the students quizzed them on recycling facts.
There is no Planet B.
That's the slogan for the Poland North Elementary School fourth-grade class, which is focusing this year on educating its community about recycling for a chance to go to Disneyland.
In other words, there's no "Plan B" for saving this planet.
The two classes have handed out reusable coffee mugs at Dunkin Donuts and collected telephone books to recycle, but on Tuesday, students and staff at the school invited community members to an educational meeting where they could also pick up a Green Team recycling bin.
"We're encouraging more people to recycle," said Ralphie Sandy, 9, of Poland.
Students in the classes monitored the recycling bins of their neighbors, checking off whether their bins were empty, full or half full, before bringing them in for the assembly.
"Some people did not recycle at all," said Amelia D'Angelo, 10, of Poland.
The fourth-graders' efforts are part of the Disney Planet Challenge, which will reward one classroom in the U.S. with a trip to Disneyland when the contest ends.
The contest "is really as Disney-esque as you can be," Principal Mike Masucci said. "It is in-depth. ... It takes a commitment from our students and teachers."
On Tuesday, about 25 people listened as the students quizzed them on recycling facts.
Some of the numbers were startling to those in attendance.
"I was surprised by how large some of the numbers are," said Mike Kluchar, a Poland resident.
Kluchar said that his family of six sorts and recycles each week and that he puts anywhere from three to five containers of recyclables at his curb each week. He said he was inspired by a science teacher at Youngstown State University when he was a student there.
Among the facts the fourth-graders researched was the number of cans thrown away each second in the U.S. — 1,500 — and the average amount of trash a person throws away each day — about 4.5 pounds.
The studentss have been doing a number of things to promote environmental responsibility, including writing a letter to Superintendent Robert Zorn about eliminating styrofoam in the schools.
Zorn said he forwarded the letter to Donna Cartwright, director of food services, who responded to the school in a letter Tuesday.
Cartwright wrote that she would have an answer by the first of the year and that she is looking at a recycled pulp tray instead of styrofoam.
To eliminate the trays entirely likely would increase the district's water and detergent uses, so she is looking at the recyclable alternative, Cartwright said.
"Oftentimes a positive change in one area has a negative impact in another area," she said.
The recyclable trays cost 12 cents each compared to about 3 cents for each styrofoam tray, but Cartwright said she is looking at grants to help pay for them.
Masucci said the environmental efforts would not be possible without the fourth-grade teachers, Tracy Kaschak and Karen Vasko, and Theresa Thompson, a parent volunteer.
"Hopefully we can change some ideas and get some full bins," he said.
rrouan@vindy.com