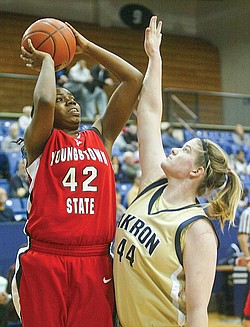 Photo
YSU's Brandi Brown looks to shoot around Akron's Kyle Baumgartner during Saturday action in Akron.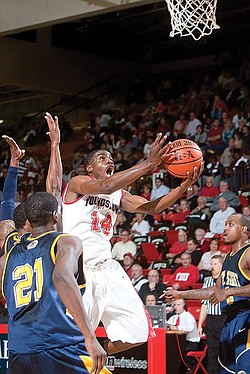 Photo
YSU's Kelvin Bright during the first half at Beeghly Center on Wednesday afternoon.
The men's team has dropped 2 to Horizon League opponents
By PETE MOLLICA
VINDICATOR SPORTS STAFF
YOUNGSTOWN — The Youngstown State men's and women's basketball teams are off this week for final exams. Hopefully, the Penguins are doing a better job in the classroom than they have on the court thus far.
The YSU men's team (3-5) has a three-game losing streak and two of those games were to Horizon League opponents where the Penguins now stand 0-2.
The YSU women's team (0-8) has endured a disastrous start to the season, losing all eight games. The closest they've been to a victory was a nine-point loss to Louisiana-Monroe last month.
The women's team at least has an excuse. The Penguins are unbelievably shorthanded and have been since the season began.
Second-year head coach Cindy Martin has played the last two games with just six healthy players and only seven on the roster.
Martin has never had more than eight on the roster since the season began. One of those, senior Kaitlyn March, is still recovering from an ankle injury and has played sparingly.
Martin had high hopes for her team going into the preseason, but they were cut short quickly when four of the seven new faces she recruited for this year, were lost for the season.
Her top recruit was junior college transfer Tieara Jones, a Youngstown native and former Rayen High standout. Jones will spend this season getting her academics in line with the NCAA standards.
Then 6-foot-1 freshman forward Kaitlin Rohrs, 5-8 freshman Melissa Thompson and 5-8 junior college transfer Shea Johnson all went down with injuries along with March.
Thompson (torn ACL) and Johnson (back) are out for the season, but there is a good chance that Rohrs will return. The sooner the better.
Rohrs has a very bad case of shin splints and at last report she was beginning to have cardiovascular workouts. Hopefully, she will be able to be back in action by the time Horizon League play begins next month.
But right now, the Penguins are suffering and they still have three games remaining before league play begins on Jan. 2.
There has been some bright spots for the Penguins as junior college transfer Bojana Dimitrov started the season on fire. She continues to lead the Penguins in scoring with a 14.7 point per game average.
But Dimitrov sustained a concussion in the team's tournament action in Texas and has missed the last two games.
She's expected to be back in action when the Penguins resume play on Sunday at Buffalo in a 2 p.m. contest.
Another bright spot for the Penguins has been the steady improved play of freshman forward Brandi Brown.
The 5-11 forward from Pomona, Calif., leads the Penguins in rebounding averaging 10 per game and is second in scoring with a 10.8 per game average.
The youngster has already had three double-doubles on the year, including a 24 point 14 rebound game in the team's last outing at Akron.
But elsewhere the Penguins are struggling, shooting just 32.4 percent from the field, 31 percent from 3-point range and just more than 50 percent from the free throw line. They are also being outrebounded 46-34 on the average in the eight games to date.
Two returning players which Martin had counted on to lead the way this season, sophomores Kenya Middlebrooks and Macey Nortey, are not having good offensive performances.
Middlebrooks has made just 26 of 101 field goal attempts (25.7 percent) and 11-of-31 from 3-point range. She still averages 9.4 points a game, fourth high on the team.
Nortey is shooting a little better, but only slightly. She's hit on 30 of 95 attempts from the field (31.6 percent), but she also has 46 turnovers to 41 assists on the year.
Until somebody gets healthy or the Penguins make some major improvements, it's going to be a difficult time for Martin and the team.
The men's team, except for senior forward Dallas Blocker, is healthy, but not playing well at all.
They played solidly in a 72-56 loss at Pitt, but then had two bad outings against Detroit and Wright State, both Horizon League opponents
Blocker is nursing a knee injury and has missed the last two games. He was the team's second leading rebounder at the time of his injury and had one of his best outings in the loss to Pitt, where he set a Peterson Events Center record for opponents' assists with six.
Seniors DeAndre Mays and Kelvin Bright were the Penguins' two top scorers returning from last season, but they have been very inconsistent thus far.
Mays leads the team with an 11.3 average, while Bright is scoring at a 9.5 average, but both have been up and down this year.
Senior Sirlester Martin leads the team in rebounding with a 5.1 average and is scoring at a 10.3 average, but he still hasn't shown the rebounding form that was second best in the Horizon League a year ago.
Junior Vytas Sulskis has probably been the most consistent performer on the team and is second in scoring with a 10.4 average.
The Penguins aren't shooting that bad as a team (42.7 percent), but they are making just 28.6 percent of their 3-point shots and just more than 60 percent from the foul line.
They are holding their own on the boards and have committed fewer turnovers than their opponents, but the wins still aren't coming as quickly as head coach Jerry Slocum would like.
The Penguins return to action on Dec. 16 at St. Francis, Pa. Then they will travel for their third straight league contest at Green Bay on Dec. 19 before returning home to play High Point, N.C. on Dec. 22 at 7:05 p.m.
mollica@vindy.com