It's a wrap: 'Elves' take care of 2,500 gifts for seniors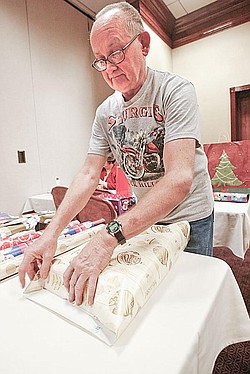 Photo
GIVING BACK: John Koontz carefully wraps a present for a senior. Koontz' whole family volunteered last year for the Be A Santa for a Senior program.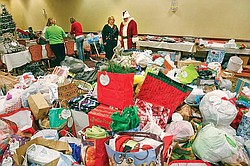 Photo
GIVING SEASON: Carol Hitchcock, owner of Home Instead Senior Care, and Santa survey a pile of gifts donated to the Be a Santa for a Senior program. The program will distribute more than 2,500 gifts to about 620 seniors.
By RICK ROUAN
VINDICATOR STAFF WRITER
If the donors who bought gifts
for the elderly are the Santas, the volunteers and staff members from Home Instead Senior Care might be considered the elves.
The group wrapped about 2,500 gifts for elderly people, who otherwise might not receive anything this Christmas, during a wrapping party on Wednesday in the Holiday Inn on South Avenue in Boardman.
"Everybody forgets the seniors," said Carol Hitchcock, owner of Home Instead. "Their family has passed away and they're alone."
The Be A Santa to a Senior program is in its fifth year, Hitchcock said, and this year began on Nov. 9 by placing "giving trees" in area businesses. The trees had tags with the name of a senior and some gift ideas, and donors were asked to buy the gifts and return them to the business.
All of the gift tags were taken from the trees and returned this year, Hitchcock said, and about 620 seniors throughout Mahoning and Trumbull counties will receive gifts. Hitchcock said she works with various nonprofit organizations to gather names of seniors.
"If it wasn't for these gifts, they wouldn't even be getting a gift for Christmas," she said.
All the gifts the group collected were stacked into a large round pile inside the Holiday Inn. Wrapping stations set up throughout the room were manned by volunteers and staff from Home Instead, which Hitchcock said employs about 120 people.
Hitchcock said she expected about 75 volunteers to help wrap gifts between 2 and 7 p.m. on Wednesday.
One of those volunteers, John Koontz, of Struthers, was helping to wrap for the second straight year. Last year, Koontz, his wife and daughter all volunteered.
"There's a lot of elderly people who don't have anybody to look after them," Koontz said.
Some volunteers said that they have seen seniors without family in nursing homes and that it drove them to help.
"It was always nice to see faces of the people who receive gifts," said Barbara Romeo Shade, of Lake Milton.
Slippers and pajamas were sprinkled throughout the pile of gifts, along with some basic necessities like toothpaste and soap.
"These are such basic things people need that we take for granted," said Carol Cook, of Austintown.
While some seniors did request those items, the program does not exclusively target people in financial need, Hitchcock said.
Instead, the program focuses on "companionship" for seniors who likely won't receive gifts or visitors during the holidays, she said.
The generosity of donors surprised some volunteers, who thought the downturn economy might persuade donors to save their money.
"No matter what's going on, people find a way to give," said Barb Leckwart, of Struthers.
Hitchcock is still seeking volunteers to help deliver the gifts and visit with the seniors on Monday. Potential volunteers can call (330) 729-1233.
The reaction of the seniors who receive the gifts is rewarding, Hitchcock said.
"They cry. They say, 'I can't believe somebody remembered me,'" she said.
rrouan@vindy.com