Kaluza's new house decorated for holiday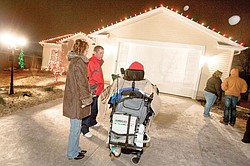 Photo
Snow flakes fall as Joe Kaluza talks with his sister, Anna Fitzgerald, and Ed Wojciechowski, of Edison Lighting during a Christmas lighting ceremony at the newly constructed home on Monday evening. Edison Lighting of Boardman was responsible for installing the Christmas lights.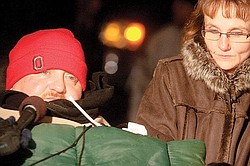 Photo
Joe Kaluza is interviewed by a television reporter alongside his sister, Anna Fitzgerald, during a Christmas lighting ceremony at the newly constructed home on Monday evening.
By Elise Franco
YOUNGSTOWN — It was another of the many beautiful days Joe Kaluza has seen in recent months.
Friends, family and volunteers gathered outside Monday evening as Christmas lights were lit on the brand-new house some 400 volunteers helped build for Kaluza, his wife, Lisa, and their two children Tiffany, 13, and Josh, 22.
"It's beautiful, and it's wonderful," he said. "It'll really feel like Christmas now."
Kaluza, the former manager of KFC on South Avenue, was shot by a robber March 24, 2008, as he left the restaurant to make a bank deposit. The injury left Kaluza a quadriplegic.
The lights, which line the roof of the Ivanhoe Avenue house and accented bushes and landscaping, were installed by Ed Wojciechowski of Edison Lighting in Boardman and his crew.
Wojciechowski said he received a call from Don Murphy, one of the men involved in the construction of the house, asking if he would donate his time and skills. He said the team used about 500 large bulbs on the roof and 300 strands on the shrubs — about $1,500 in lights.
"We started at 5 a.m. [Monday], and it took about seven hours," Wojciechowski said. "It's just about giving back. This guy really deserves it."
It may seem like only a short time has passed since the first shovel full of dirt was turned at the groundbreaking, but that's because it's been just over two months.
Kaluza's sister Anna Fitzgerald and family friend Jim Phillips organized The Kaluza Project, a fund-raising campaign to build the Kaluza family a new house.
"It's overwhelming how much this community came together to build this house for Joe," Fitzgerald said. "I expected it to take a year or two."
They raised about $37,000 at the Canfield Fair, and because of in-kind donations from more than 150 local contractors and businesses, construction on the house began Sept. 30.
Murphy said the house, which cost about $300,000 to build, is 95 percent completed, and the only thing left to do is bring in furniture and interior decorations.
"It's incredible what took place at this house," he said. "How I look at this Christmas lighting is, I hope it brings a new light of life to Joe and his family."
Kaluza has to wait just a few more days before his family's new life can begin in their new home. The reveal is 3 p.m. Sunday, and moving day is Monday.
Until then, Kaluza said the interior of the house will remain a mystery.
"It's so nerve-wracking because we're not allowed to see what's going on inside," he said.
"So it's eating away at you because you want to know, but you can't."
Kaluza's mother, Ester Kaluza, gets emotional at the thought of her son's dream becoming a reality.
"I just think it's so wonderful that everyone has done this for him," she said.
The family is still accepting donations through The Kaluza Project, P.O. Box 8, North Lima, OH 44452.
efranco@vindy.com