Investigation continues as hundreds mourn Cardinal Mooney teens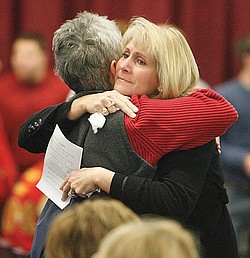 Photo
Condolences and hugs as the "Mooney Family" had a mass at the school to deal with the deaths of two seniors over the weekend.
BOARDMAN — Police are reconstructing the 24 hours leading up to the deaths of two township teens found in a Market Street cemetery.
The bodies of Jamie Serich, 17, of Walker Mill Road, and Colin Hart, 18, of Wildwood Drive, were found early Sunday by a township police officer in Forest Lawn Memorial Park. Both boys were seniors at Cardinal Mooney High School.
"We're trying to piece together the 24 hours before their deaths," said Lt. Don Hawkins, leading the investigation.
Serich's mother, Cynthia, reported her son missing about 11:30 p.m. Saturday. The report said the woman had last seen her son about 8 p.m. that day.
The mother told police she was notified by several of her son's friends that they had received text messages from Jamie saying he was going to kill himself that night, and that he was depressed and couldn't take it anymore, the police report said.
Hundreds paid their respects and mourn the teens as the high school had a memorial mass Monday.
"We gather today as a people of hope," said Father Ed Noga, of St. Patrick Church in Youngstown, who presided over the mass attended by about 300 mourners.
Many of those in attendance sought comfort in a few dozen boxes of tissues scattered around the room.
Large pieces of poster board with the boys' names were hung on a back wall. On them people wrote messages such as, "we love you," "we'll miss you forever," and "you'll always be in our hearts." Those who attended were handed a musical program featuring the students' names. The opening song was "We Are Many Parts."
Father Noga reminded the congregation of faith. He said a funeral "is as much about the congregation that gathers as the person we're sending back to the Lord."
Read more in Tuesday's Vindicator and Vindy.com