Cardinals capture seventh state crown
Mooney coach PJ Fecko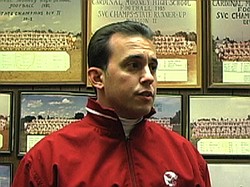 Video
The Vindicator sports writer Joe Scalzo talks to Cardinal Mooney head football coach P.J. Fecko as the Cardinals prepare for the OHSAA State Championships.
By Joe Scalzo
MASSILLON — The season started with a group of Cardinal Mooney seniors meeting in Alex Zordich's living room, vowing to accept nothing less than a state crown.
It ended with that same group crowding onto a platform at midfield at Paul Brown Tiger Stadium, holding up the Division III trophy in front of thousands of cheering Cardinals fans.
For the third time this decade — and seventh overall — Mooney finished its postseason with a victory, drubbing Columbus DeSales 35-7 on Friday in a fitting exclamation point to the winningest season in school history.
"It's just amazing," senior left tackle Eric Franklin said. "This summer, we all sat in Alex's house and set a goal to win a state title.
"We all came together as a brotherhood and worked really hard for this. It was worth every minute."
Senior Braylon Heard, the offensive player of the year in Div. III, rushed 28 times for 178 yards and two TDs for the Cardinals (15-0), who broke the school record for wins in a season.
The West Virginia recruit also threw for a touchdown — his first since he was a middle schooler at Eagle Heights Academy — hitting senior Donald D'Alesio on an 8-yard pass that made it 35-0 early in the fourth quarter.
He finished the season with 1,973 yards rushing and 24 TDs.
"He's really a special player with a tremendous amount of ability," said Cardinals coach P.J. Fecko, whose team beat DeSales 21-14 in Week 2. "He's really played well all year."
Senior Ray Vinopal started the scoring with a 56-yard touchdown down the left sideline on a perfectly blocked play, making it 7-0 with about a minute left in the first quarter.
"It was outside zone left on the short side of the field," said Vinopal, a first team All-Ohio safety who has an offer from the University of Michigan. "The line got a great push and our fullback kicked his man out.
There was one backer left coming from the outside and he was just a bit late and it left a smooth open lane to the end zone."
"It was a good handoff, too," added quarterback Alex Zordich, drawing laughter in the postgame press conference.
Vinopal was almost untouched on the play; a DeSales defender briefly grabbed his facemask near the line of scrimmage.
"That's the only piece of me he got," Vinopal said. "[Senior receiver Pat] DePizzo has been joking with me all year that I always cut the wrong way off his blocks, so after that play he came up to me and said, 'You finally you made the right move.'"
Midway through the second quarter, Mooney punter A.J. Fox made a huge play on a snap that went over his head, retreating to his own 30 before booming a line drive to the DeSales' 4.
On the next play, Stallions quarterback Nick Gentile fumbled away the ball (one of five fumbles by Gentile) and it was recovered by senior Mark Pelini at the 1, setting up a touchdown plunge by Zordich.
Then, with 23 seconds left before halftime, Heard scampered for a 23-yard TD that made it 21-0 and all but ended the suspense.
Heard scored again early in the third quarter, this time on a 53-yarder, to make it 28-0. After Heard's TD pass, Mooney emptied its bench and DeSales' lone score (a 7-yard run by Jake Edsinger) came against the Cardinals reserves with less than three minutes left.
"They're very complete," said DeSales coach Ryan Wiggins, whose triple option offense was held to just 106 yards through three quarters. "They're so good on defense. Everyone talks about Heard and their line. People don't talk about their defense. They've got 11 guys that really fly to the ball.
"I think they're as strong on defense as anyone we've played for sure." Vinopal added 74 yards on six carries as Mooney rolled up 270 yards on the ground.
Zordich added 101 yards passing on 4 of 6 attempts, twice hitting tight end Nick Hargate on play-action rollouts for a total of 49 yards.
Gentile had 107 yards rushing on 26 carries but lost two fumbles (DeSales had six overall) and threw an interception for DeSales (11-4). He also threw for 41 yards.
First team All-Ohio linebacker Mark Brandenstein had six tackles, a fumble recovery and a tackle for a loss for Mooney, which had eight different players contribute either a tackle for loss, forced fumble, fumble recovery or an interception.
It wasn't a perfect performance by the Cardinals. But it was pretty close.
"Until you sit and evaluate the film, it's difficult to tell that," said Fecko, who is 3-2 in state championship games. "I will say it really feels good to be sitting here. I've sat at this [press conference] table a lot of different times and I've been at both ends of it and right now I'm just going to sit and enjoy the victory.
"That's the only thing that matters."
scalzo@vindy.com