Man donates kidney to save woman's life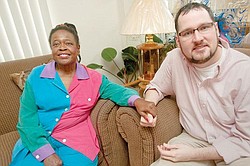 Photo
A SPECIAL GIFT: Kimberly Smith of Campbell and Jason Evans of Hubbard get together for a visit at Smith's home on Hamilton Street. Evans donated a kidney to Smith at the Cleveland Clinic on Nov. 17.
CAMPBELL — Kimberly Smith was tired and weak from end-stage renal failure.
Her skin was bluish-gray. Her blood vessels were thin, and it was hard to get blood out of her veins. Dialysis was getting more difficult.
She had to have 38 procedures to access her kidneys, and the access would last one or two days or not at all.
There were times this past year when she couldn't get dialysis. As a last resort, her kidneys were accessed through her back.
Smith, 54, who lives in Campbell, desperately needed a new kidney. So her pastor, David Thomas of Victory Christian Center in Coitsville, put out the word.
At services in August, he told her story to the 3,000-member-strong congregation.
One of those members heard not only his words, but God's — "it felt like lightning just hit me," said 29-year-old Jason Evans of Hubbard. "As soon as I heard it, I felt like God was speaking to me."
He decided he would donate a kidney to Smith.
The next day, he said, he called the church. The church directed him to the Cleveland Clinic's living-donor office.
"They sent a blood-test kit out," he said. "I got called 14 days later — we were a blood match. You couldn't ask for a better match," he said.
"I said, 'What's the next step?' They said, 'Come to the clinic for physicals,'" he said.
Physicals revealed he and his kidneys were medically sound, qualifying him as a donor.
The last step, he said, was the approval from the hospital's transplant committee.
"We didn't know each other," said Smith, who found out during a service in mid-September that Evans was working to become her donor.
Evans and his wife, Heidi, introduced themselves, she said.
"He said, 'I'm going to give you a kidney,'" she remembered. "I started crying. I was overwhelmed."
A lot of people mean well when they set out to do something difficult for someone else, she said, but they don't follow up.
Evans, she said, was tenacious about taking all the steps needed for the transplant.
On Nov. 17, it happened.
"I went in first," said Evans. Three-quarters of the way through [the operation], they brought Kim in."
Two separate teams worked on the transplant, he explained — one team removes kidneys; the other team transplants them.
He was in recovery only about 20 minutes, he said, and his family, Heidi and his mother and father, Polly and Todd Evans of Hubbard, had to turn around and come back from their trip across the hospital campus to the cafeteria.
Smith said she went in for a second surgery the next day to make sure her veins were open. That was Wednesday.
"On Sunday, [the kidney] started to work," she said, "and it's been working ever since. My color is returning. I feel better."
Evans went home Thursday of that week.
His stomach is sore, he said, and the sneezing from the cold he's caught this week makes it hurt more.
Still, there are no major issues with the removal of his kidney, he said. "I'm very glad I did it. I talk to Kim every day. She can't find words for how grateful she is, but I feel grateful and blessed."
Smith went home Tuesday to her four adopted daughters, ages 9 and 10.
"Well, I'm happy to go home," she said, adding that she feels she's ready.
She won't be going out in public for the next three months.
She said she's grateful for the good care she got at the hospital — "it's the best place you can be, medically."
She's grateful, too for Evans' selflessness. "He literally saved my life," she said.
More like this from vindy.com