Mooney, Ursuline success never gets old for alums
State Championship Preview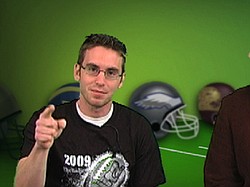 Video
The Vindicator Sports Writer Joe Scalzo talks to Mark Porter of ScoutingOhio.com about Cardinal Mooney and Ursuline playing in the OHSAA State Championships.
'09 Ursuline Highlights

Video
'09 Mooney Highlights Reel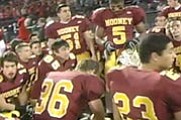 Video
Ursuline 48 Ridgewood 6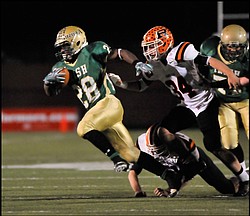 Gallery
Ursuline defeats Ridgewood 48-6 during the Div. V semifinal game at Central Catholic on Friday in Canton.
Mooney Beats Big Red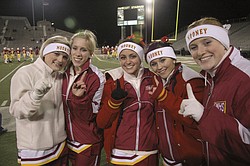 Gallery
IF YOU GO
Friday's state finals
How to get to the state championship games for Cardinal Mooney and Ursuline high schools:
DIVISION III
Who: Mooney (14-0) vs. Columbus DeSales (11-3).
When: 11 a.m.
Where: Paul Brown Tiger Stadium, Massillon. Take Interstate 76 west to Interstate 77 south to state Route 21, exit 135. Travel south on Route 21 toward Massillon to Cherry Avenue. Turn left onto Cherry for two blocks to Erie Street NW (first traffic light). Turn right onto Erie Street and continue to Lincoln Way East (third traffic light). Turn left onto Lincoln Way/state Route 172 to Hess Boulevard (seventh traffic light). Turn right onto Hess to stadium parking areas.
DIVISION V
Who: Ursuline (10-3) vs. Coldwater (13-1).
When: 3 p.m.
Where: Fawcett Stadium, Canton. Take I-76 west to I-77 south to Exit 107A (Fulton Road). Cross over Fulton and continue south on Blake Avenue. NW to stadium parking.
Tickets: $8 pre-sale, $10 at the gate.
What do a geologist, a dentist and an engineer desire Friday?
Victory for their teams in state championship football games.
Erik Sardich, Jon Saadey and Dan Gallagher are gearing up for another stab at a title.
Sardich and Saadey are former Cardinal Mooney High School players, and Gallagher, 89, is a former Ursuline gridiron athlete.
Despite living in Stow, Sardich, a 1993 graduate, has extensive involvement in his former school, both technically and physically.
Sardich will be Mr. Hospitality in Massillon, where Mooney plays Columbus DeSales for the Division III crown.
"We've been fortunate to make it [state title game] for the fifth time in six years, so I've had a tailgate party in some fashion — in the mornings, in the afternoons," said Sardich, a geologist in Akron who graduated from Kent State.
"It's a way for alumni to reconnect and for students and parents to get together," said Sardich, a player on the Cardinals' 1992 team that lost to Mentor Lake Catholic in a first-round playoff game at Niles.
"They went on to steamroll and win state," Sardich said of Mentor Lake, a team that featured former Cleveland Browns player Joe Jurevicious.
For state championship games, the location varies depending on the stadium.
This year in Massillon, the site will be a picnic shelter on a hill behind the home side.
"I reserved that," said Sardich, who pays for the food and drink.
"We had 400 people and never ran out," he said of the 2007 breakfast, again at Massillon's Paul Brown Stadium, when Mooney played — and lost — to Coldwater. The Cardinals' last crown came in 2006.
"I enjoy doing it, and everybody has a good time," said Sardich, who also has his Web site, mooneyfootball.com.
"It's not sanctioned by school, but it's properly maintained," Sardich said. "We take 300 to 400 photos at every game, but people also check the recaps and read our columnist [Rocky DeLisio Sr.].
Saadey, now a dentist, has a feel for what the players experience and acknowledged that a state championship game is special.
"It takes a lot of work to get to this point in the season," said Saadey, who quarterbacked the 1981 and 1982 teams. "You've got to be good but a little bit lucky, too. I know we were."
Mooney lost to Cleveland Benedictine in a state semifinal in 1981 and beat Toledo St. Francis in 1982.
Saadey attends many games and not just because his daughter, Shannon, is a freshman.
"It's a great week for them," Saadey said. "When I played seems like a lifetime ago because so much has happened since then. But people still talk about when I played. They talk about it more than I think about it. It's high school football in Youngstown."
Of DeSales, a team Mooney already beat, Saadey said, "They switched quarterbacks, so Mooney is going to have its hands full. They're going to have to bring their best game for sure."
In 1937, Gallagher became the third quarterback in Ursuline's history, after — to the best of his knowledge — Harry Rapp in 1934 and Gallagher's brother, Jack, in 1936.
The 1938 graduate has been a steady supporter of the Irish, visiting the school weekly to have lunch in the alumni office or attending booster club meetings during the football season.
Gallagher remembers the 2000 title game against Coldwater.
"It was nonstop scoring with [Terrence] Graves, [Delbert] Ferguson and Josh Swogger," Gallagher said of Ursuline's running backs and quarterback in a 49-37 win on Dec. 1, 2000, also at Fawcett, site of Friday's game against Coldwater.
At the time, Gallagher was sitting with his son, John (UHS class of 1982).
This time, he may just watch it on television.
Gallagher was in front of his TV for the 21-0 win over Findlay Liberty-Benton in the 2008 championship game, but he did attend Ursuline's 20-14 loss to Marion Local Maria Stein in 2007.
"I have breakfast every Saturday at the Golden Dawn and go there to celebrate after every win," Gallagher said of the unofficial hangout on the North Side for Irish fans. "I hope to be there after Friday's game."
After attending the University of Detroit and serving on a destroyer in the Navy in the Pacific during World War II, Gallagher got his degree at the University of Illinois.
He returned to Youngstown to work as an electrical engineer with McKay Machine (which later became Wean Engineering).
Because Ursuline played on the road a lot this fall, Gallagher attended two regular-season games. But he saw the playoffs against Crestview and Cuyahoga Heights.
For 14 years, Gallagher organized the Irish Show at Powers Auditorium in downtown Youngstown as a fundraiser for Ursuline.
"We brought in outstanding talent from Ireland," he said of entertainer Cahal Dunne and comedian Hal Roach.
"I'm ingrained with Ursuline blood, and I'm still above ground," said Gallagher, born in 1920.
bassetti@vindy.com