A coach to toast (and to roast)
Mooney coach PJ Fecko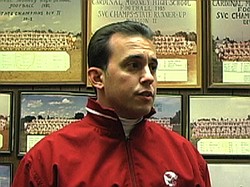 Video
The Vindicator sports writer Joe Scalzo talks to Cardinal Mooney head football coach P.J. Fecko as the Cardinals prepare for the OHSAA State Championships.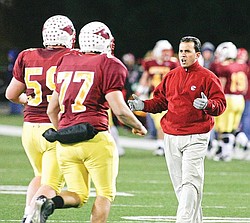 Photo
Cardinal Mooney head football coach PJ Fecko talks to players returning to the sideline.
State Championship Preview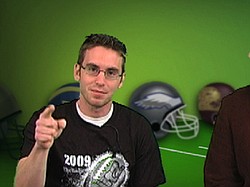 Video
The Vindicator Sports Writer Joe Scalzo talks to Mark Porter of ScoutingOhio.com about Cardinal Mooney and Ursuline playing in the OHSAA State Championships.
IF YOU GO
Friday's state finals
How to get to the state championship game:
DIVISION III
Who: Mooney (14-0) vs. Columbus DeSales (11-3).
When: 11 a.m.
Where: Paul Brown Tiger Stadium, Massillon. Take Interstate 76 west to Interstate 77 south to state Route 21, exit 135. Travel south on Route 21 toward Massillon to Cherry Avenue. Turn left onto Cherry for two blocks to Erie Street NW (first traffic light). Turn right onto Erie Street and continue to Lincoln Way East (third traffic light). Turn left onto Lincoln Way/state Route 172 to Hess Boulevard (seventh traffic light). Turn right onto Hess to stadium parking areas.
Excerpt from a late July phone call with Mooney coach P.J. Fecko.
FECKO: Sorry I didn't get back to you until now. I was on vacation in Chicago.
SCALZO: I thought you only recruited in northeast Ohio?
FECKO (chuckling): Well, there are a lot of Catholics there.
---
The first thing you need to know about Patrick Joseph Fecko is this: He's got a good sense of humor.
On the bus ride home after victories, his players serenade him with chants of "Patty Joe."
Those players imitate him — even drawing a mole on their upper lip — and use his trademark phrases:
- At any rate.
- Theoretically.
- Come hell or high water.
- Smoke and mirrors.
"Last year, he called some kid from Steubenville a thumper, so we had that one going for awhile," said senior lineman Zach Larson. "We'll call guys thumpers."
Mooney football players go to basketball games dressed as members of the coaching staff. They make fun of Fecko at practice for putting in yet another running play. And they'll even — gasp! — do impressions of legendary Cardinal coach Don Bucci, all while Fecko stands back and chuckles.
"Before scouting reports, we do voice imitations and Coach Fecko goes right along with that," said Larson. "I did Coach Bucci and he was like, 'That's exactly what he would have said.'"
Fecko's sense of humor extends to obnoxious reporters — i.e. me — who tease him about everything from recruiting to predictable play calling to boring quotes, which inevitably include at least one of the following themes: having a great week of practice, football being a game of momentum and great senior leadership.
(He also uses the word "absolutely" at least 10 times per interview.)
"He's very funny," said Cardinals assistant Chris Amill, who was good friends with Fecko when they were classmates at Mooney. "The kids feel they have to come out and work hard but at the same time, they know they can have fun and enjoy practice."
Added Larson, "He has his lighter side and he has his time to get serious."
---
Outside the locker room after this year's Warren Harding game.
SCALZO: Wow, they went from being really rowdy to being really quiet as soon as you got here.
FECKO: Are you surprised?
SCALZO: A little. I thought this program just ran itself.
---
Here's the second thing you need to know about Fecko: He doesn't panic.
Fecko, a 1993 Mooney graduate, was a relatively unknown 25-year-old assistant in 2000 when he took over for arguably the best coach in Mahoning Valley history.
A former All-Steel Valley Conference defensive back, Fecko spent six years on Bucci's staff — including as defensive coordinator of that 1999 team — before his unlikely promotion.
"Don Bucci is to high school football what Woody Hayes or Bo Schembechler are to college football," said defensive coordinator Ron Stoops, who has been with Fecko since his second season. "That is a tough act to follow and he sort of embraced it and welcomed the challenge."
The Cardinals were coming off a 12-2 season in 1999 that ended in the state semifinals, just before Mooney went through a down period talent-wise that would have challenged even a veteran coach like Bucci.
Fecko went 5-5 that first year, then went 0-10 in his second and 5-5 in his third. Through it all, he trusted his coaching philosophy and somehow managed to make an older group of coaches trust in his plan — and, more importantly, in him.
"I think that you just try to implement a plan, put a plan together and stay determined to see that plan through," said Fecko. "There are some times, as I've seen, sometimes the plan gets a little foggy and there's some pitfalls along the way.
"But with the type of kids and the families we have at Mooney, it makes it easier to get through those."
Things started to come together in 2003, when a senior-laden class built the foundation for the most dominant run of any team in Valley history.
They went 8-3 that year and made the playoffs for the first time since 1999. A year later, the Cardinals won the state title, starting an unprecedented string of four straight state championship game appearances and two state crowns.
On Friday, they'll go for the seventh state title in school history — no other area school has more than two — against Columbus DeSales in the Div. III final.
---
On the field after a regional final victory over Poland.
FECKO: Alex [Zordich] was changing a lot of plays at the line, getting us into good plays and out of bad plays and taking advantage of the looks he was seeing.
SCALZO: So he just audibled to one of the other five plays you guys run?
---
Here's the third thing you need to know about Fecko: He's good at what he does.
But here's the fourth thing: He doesn't care what people think of him.
Fecko is legendary for not returning phone calls, both from his staff and from reporters. His staff almost fell out of their chairs when he figured out text messaging this fall, which meant they didn't have to tempt fate with his voice mail, which is often too full to accept messages.
("Aloof" is the word used most often to describe him, usually in an endearing way.)
He unfailingly praises his coaching staff, his players and the opposing teams in interviews and never talks about himself. I've interviewed him just seconds after winning state championship games and losing state championship games and he was exactly the same after both.
(And even though he lost his starting quarterback to injury before the 2005 and 2007 state finals, I've never once heard him use it as an excuse.)
He doesn't seek out speaking engagements at coaching clinics, doesn't revel in talking to college scouts and views the offseason as a chance to become a better father and husband (he and his wife, Gina, have four young kids: Lia, Alexa, Patrick and Vincent), not as an opportunity to advance his career.
Fecko expects his staff (all the coaches are married with kids) to work long hours during the season, so he trusts most of the offseason to strength and conditioning coach Mark Lyden.
"He knows we work a lot of long hours during the season, so he knows the offseason is the time we use to keep our marriages together," said Amill.
During the season, he trusts his coaches to do their jobs — it's not unusual to see him in the locker room on days when Stoops is coaching defense on the practice field — and he doesn't meddle or pick sides.
"He's very pragmatic," Stoops said. "He spends his time on very practical, football-related matters.
"And he creates a very good environment for his coaches. He's flexible, he trusts us and we enjoy being around each other."
He's also not afraid to change, shifting from Bucci's famed stacked-I offense to more of a shotgun running attack in recent years, while moving from a 4-4 set on defense to one with four defensive backs.
(OK, it's not revolutionary. But this is Mooney we're talking about.)
Mooney will never win a popularity contest among area football fans — the animosity between public and parochial school fans seems to get worse every year — but the school doesn't have to forfeit games for using ineligible players and Cardinal players rarely attend prep schools or fail to qualify academically for college.
He's the only teacher on the coaching staff — he teaches social studies — and worries about academics and athletics.
"That says something about him as a mentor and a teacher," said Amill.
So here's the fifth thing you need to know: From 1972-1999, Bucci led Mooney to five state championship games. Over his first 10 years, Fecko matched him. He's 93-32 overall.
A decade after taking over for the biggest coaching name in the Valley, Fecko has clearly made a name for himself.
(Even if it is Patty Joe.)
scalzo@vindy.com