Youngstown State faces a tall task against Pitt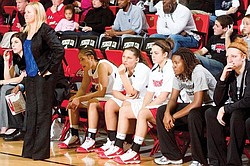 Photo
PENGUINS IN ACTION: Youngstown State women's basketball coach Cindy Martin, standing, will lead the Penguins against No. 19 Pitt tonight at Beeghly Center.
By Pete Mollica
All five starters for the unbeaten Panthers are over 6 foot.
YOUNGSTOWN — Things aren't getting any easier for the Youngstown State women's basketball team.
The Penguins, winless in their first six games this season, are still playing with a roster that includes just seven healthy players and now they must take on one of the best teams in the country tonight in a home contest at Beeghly Center.
The University of Pittsburgh, ranked 19th in the latest poll, will bring a perfect 5-0 record to Beeghly for a 7:05 tip-off tonight.
"It's going to be exciting to have a Top 25 team coming to Youngstown and our ladies are excited," said YSU coach Cindy Martin.
The Penguins are coming off a weekend trip to El Paso, Texas where they dropped a pair of games in the UTEP Thanksgiving Tournament. YSU lost to the University of Louisiana-Monroe in the opener 76-67 and then dropped a 70-51 contest to Weber State in the consolation game.
"We definitely saw some improvements down in Texas," Martin said. "We had freshman Brandi Brown in the first game who led the way and then senior Rachael Manuel and sophomore Macey Nortey playing well in the second game. It's nice to know that you have five players capable of scoring in double figures."
Martin said the Penguins still have the same problems they've had all season.
"We still have to limit our practices because of lack of players and our depth is always going to be a problem until we get some players back on the court," she said.
"Even the players on the floor are playing with some pain," she added.
"Pitt is a team that is much bigger than we are, they have a very tall starting lineup," Martin added.
The Panthers have pretty much breezed through their first five games winning four by at least a 22-point margin. They are coming off two victories in their own holiday tournament over the weekend, beating Appalachian State 63-56 in the opener and then posting an 80-58 win over Marshall in the championship game.
Pitt also owns wins over North Florida, 61-35; Florida, 81-58, and St. Francis, Pa., 75-70. All five games have been at home for the Panthers.
Pitt's starting lineup includes 6-6 sophomore Pepper Wilson, 6-3 junior Chelsea Cole, 6-1 junior Shayla Scott, 6-0 junior Taneisha Harrison and 5-7 junior Jania Sims. Harrison leads the team in scoring with 17.5 points per game, while Sims (14.3) and Scott (10.8) also average in double figures.
The Panthers also have a local flavor on their roster in 6-3 sophomore Kate Popovec of Canfield. Popovec has played in four of the five Pitt games and is averaging 5 points and 5.8 rebounds while averaging over 18 minutes of playing time.
Popovec's best game this year was against Florida when she scored 10 points and added seven rebounds. She had a season high nine rebounds against South Florida. Her freshman season highs included 17 points against West Virginia State and 13 rebounds against Western Michigan.
The Panthers also have a familiar face on their coaching staff in former YSU Hall of Fame selection Caroline McCombs. She played at YSU from 1994-98 and her 1,577 career points rank sixth in school history and her 112 career starts are a school record. She was a senior on the YSU team in 1997-98 that defeated Memphis for the school's first win in the NCAA tournament.
mollica@vindy.com