Stambaugh Auditorium gets $925K from state to enhance stage, lights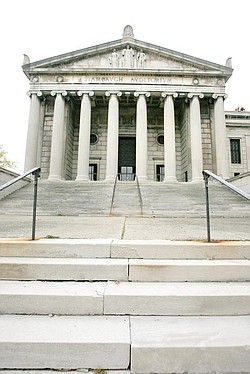 Photo
IN FOCUS: Stambaugh Auditorium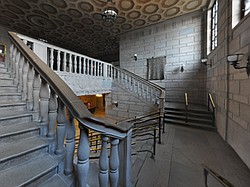 Video
YOUNGSTOWN — Stambaugh Auditorium has received a state grant that will help fund stage improvements to make the hall more attractive to theater producers.
A new rigging system with lights and curtains plus a new sound system will be installed next year, said Paul Ricciuti, a member of Stambaugh's board of directors. The current rigging is 80 years old.
The historic concert hall on the North Side received $925,000 in state money from the Ohio Cultural Facilities Commission, the commission announced Tuesday. It has earmarked $200,000 for the stage upgrade.
"We are reviewing bids now [for the stage work] and hope to award a contract in 30 days," said Ricciuti.
The rigging is suspended over the stage, and is used to lower and raise lights and curtains. Stambaugh does not have adequate space in its stage loft for a true fly system — a pulley rig that is used to raise and lower set pieces. But the improvements will allow producers to do more with lighting and curtains, said Ricciuti.
Making the hall more rentable is the goal of the work, he said.
The remainder of the state money will be used to partially reimburse Stambaugh for two projects that have already been completed: replacing copper gutters ($165,000) and building a 205-space parking lot behind the building ($300,000), said Ricciuti, a Youngstown architect. An additional $260,000 will help pay for rebuilding the hall's historic Skinner pipe organ.
The pipe-organ project began earlier this year. A Connecticut company has dismantled the organ's pipe assembly and is refurbishing it in its factory. The organ will be reinstalled in the spring of 2011. Stambaugh also has received a Bradley Foundation grant for $750,000 for the $1.3 million pipe- organ project. It is still attempting to raise the final $290,000, said Ricciuti.
The Ohio Cultural Facilities Commission is a state agency that disburses capital funds for improvements to cultural facilities.
The grant announced Tuesday was actually appropriated by the Ohio General Assembly several years ago.
Stambaugh Auditorium has received $3.1 million from the OCFC since 1994, said Ricciuti.